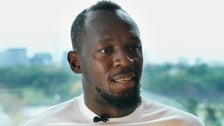 SAN JUAN, Puerto Rico (AP) – Jamaican sprinter Usain Bolt told reporters Friday he was baffled at how $12.7 million of his money disappeared from a local private investment firm that authorities are investigating in a massive scam which began more than a decade ago.
Bolt also said he fired his CEO, adding that it wasn't an amicable split.
When asked if he was "broke," the retired star athlete laughed.
"I'm not broke, but it definitely put a damper on me," he said. "It was for my future. Everyone knows I have three children. I still take care of my parents and I still want to live very well."
Bolt's attorneys said the athlete's account with Kingston-based Stocks and Securities Limited shrank from nearly $12.8 million to about $12,000. They had given the company until Friday to repay the money or take civil and criminal action.
It was not immediately clear if any action had been taken by late Friday. Attorney Linton P. Gordon did not respond for comment.
He told the Jamaica Observer newspaper that the public should expect the "expected and the unexpected" in the case.
"Given what is happening, there is nothing to say at this point," he was quoted as saying. "We have met with individuals and are dealing with specific matters."
Earlier this week, Jamaican Finance Minister Nigel Clarke announced that the director of the Financial Services Commission would step down and that the Bank of Jamaica would now be responsible for regulating the island's financial system.
He said several government agencies and elderly customers were also affected by the alleged fraud.
"It's always a sad situation. Definitely disappointed," Bolt said of the affected elderly. "Everyone is confused. … I'm just as confused as the public."
Jamaican authorities have reached out to the FBI and other unidentified international experts for help, adding that customers were misrepresented about their balances as part of the alleged fraud. The officials have not yet said how many customers were affected in total and how much money is missing in total.
Earlier Friday, Bolt spoke at a sponsored luncheon for an upcoming season and referenced the alleged cheating.
"As you all know, I've been through a tough week, a tough couple of weeks," he said, adding he will continue to do whatever it takes to strengthen his island.
"No matter what is happening, Jamaica is my country. That will never change," he said.
In a side chat with reporters, he said, "I'm just trying to focus on my family and trying not to think about it too much because it's a difficult situation."
Stocks and Securities Limited did not return a message seeking comment on Friday. The company contacted authorities earlier this month to alert them that a manager appeared to have committed fraud.
Earlier this week, Jamaican Prime Minister Andrew Holness announced his government would not bail out the company.
"The government will not socialize debt, and we will not socialize our bank failures," he said.