A suggestion that student actors at the University of Houston wear neon vests was withdrawn this week, a faculty recommendation made after campus police pointed a gun at a black student rehearsing a scene last semester.
According to Andrew Davis, dean of Kathrine G. McGovern College of the Arts, the theater department faculty developed a plan that students should wear light-colored safety vests during rehearsals in public spaces outdoors. The idea aimed to identify working actors after a University of Houston police officer pointed a gun at a graduate student rehearsing a scene on campus.
According to the Houston Chronicle, which first reported the story, graduate students received vests last semester and undergraduates in January.
The faculty proposal was withdrawn this week.
"Among other concerns, vests do not solve the problem of providing our students with safe and adequate rehearsal spaces, particularly for scenes of alleged criminal activity or violence," Davis said. "Therefore, the School of Theater and Dance has withdrawn this proposal and will not require students to wear vests."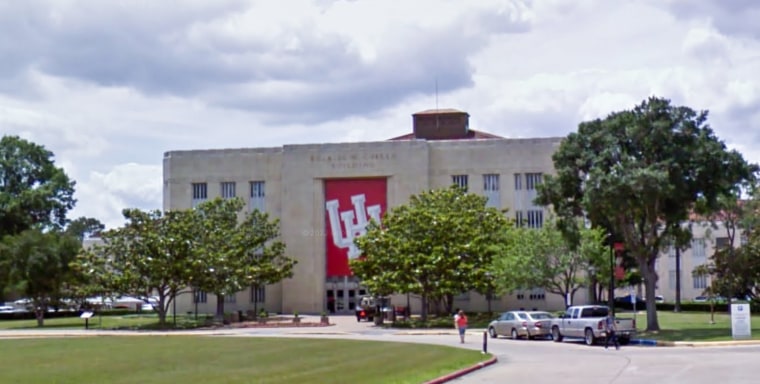 The University of Houston confirmed that the decision came from the College of Arts and Letters and was not a campus-wide policy. The requirement to wear vests "is not the correct course of action, nor has it been reviewed or approved by Police Chief Ceaser Moore," the university said.
"McGovern College management is taking the necessary steps to review protocols to ensure student actors are provided with appropriate rehearsal spaces and security protocols, particularly for scenes of alleged criminal activity or violence that could cause public concern or confusion," said the university in a statement.
test failed
On November 4, a student reported that a black man with tattoos grabbed a woman and covered her mouth in an alleyway between two campus buildings. The student, who has not been identified, said he heard the woman's cries for help.
"Listen, does he have any weapons?" a dispatcher asked, according to a school-provided 911 call.
"I don't know, and I don't want to get any closer," the caller said.
The caller stayed on the phone until officers arrived. An officer "pulled his gun to the low ready position" after observing what was believed to be a knife in "the stabbing motion," according to a university police report.
This item was not a knife. It was a screenplay, the student later reported.
Both students immediately obeyed orders from officers to get down on the floor and shouted that they were rehearsing, the report said. The officer then put his gun away and tried to comfort the crying and shaking students.
A police report said the students informed campus police that they were rehearsing a scene from Sam Shepard's play "A Lie of the Mind." The woman told officers she was "allegedly in distress" because her character was a disabled woman trying to escape her brother and her classmate was holding her as part of the scene.
University police reports have had the students' names blacked out, but the man who was mistaken for an attacker has since been identified as Domonique Champion. Champion did not immediately respond to a message requesting an interview from NBC News Wednesday,
According to The Cougar, the University of Houston's student-run newspaper, Champion is studying drama and theater. He told the newspaper that he has been struggling with panic attacks and suicidal thoughts since the incident.
"I kept seeing this picture of a gun and I almost hoped something would happen to me," Champion told The Cougar.
On social media, Champion posted a link to a recent university town hall where he shared his experiences with students, faculty and the university police chief. At the event, he held up the note saying he had been mistaken for a gun in November.
"There are holes in this story that break me," Champion said during town hall. "There were two people involved in this…I'm chillingly aware that the gun was meant for me."
These vests are 'not bulletproof'
Brandon Sanders, a senior, told the campus newspaper he didn't know a classmate had pulled a gun on him until faculty began distributing vests in January.
Sanders did not immediately respond to an interview request, but took to social media to share the situation and spoke to The Cougar.
"I want students to be informed, and I want them to know how much power they have," Sanders told the school newspaper. "Because they need to understand that their lives are in danger."
Sanders said on Twitter that he got a neon green vest on Jan. 24. He wrote that he was upset that it had taken so long to learn about the incident and urged university officials to issue a campus-wide statement.
"I feel insecure. This situation is so much bigger than they tried to play it," Sanders tweeted. "It could have been me. I'm scared for my life and the whole school should know. "
Sanders documented his frustrations and protests about the vests on his social media and posted videos on YouTube chronicling his interactions with fellow students and City Hall with faculty on Thursday. In his videos, Sanders wears the vest with the words "I'm not a threat" handwritten over the reflective silver lines.
At one point in his video from City Hall, Sanders can be seen crying and saying, "It's not bulletproof."
"A light green vest isn't going to change the color of my skin," Sanders told The Cougar. "I felt that was the greatest disrespect. These vests are not bulletproof. All they do is make me stand out."
Davis, the arts dean, acknowledged the students' frustration, saying via email Monday that the faculty came up with the vest idea "with the best intentions of all parties."
"I recognize that despite the appropriateness of the responding UHPD officer's actions, these situations may be troubling to those directly or indirectly involved, particularly given the lack of complete information and misinformation in the public dialogue about the incident," Davis wrote.
He also informed the students that the college would provide trained clinicians for counseling. The school is creating a task force of students, faculty and staff to better respond to concerns, Davis said.