Forest landscape and cultural context characterize SPA RESORTS in Thailand
Bangkok-based architecture firm Design in Motion completes the renovation project by Spa and resort planning in Ko Samui, Thailand. The architectural concept is based on two impressions that were made when visiting the existing site. Nestled in a tropical forest amidst lush vegetation, the property shades beneath dense branches and foliage that lets some sunlight through and creates intricate, moving shadows on the ground. Impressed by the natural element that occupies the building's terrain, the design team establishes guidelines that shape the concept, which reflects the growth stages of the forest, the 'forest floor', which contains several small plants such as moss and fern, as well as tree roots 'undergrowth' with trunks, shrubs, vines and creepers, the top layer 'canopy' with overlapping branches and foliage and the 'emergent layers' towering over the rest with trees dominating the natural greenery.
The second notable element that characterizes the project is the folk culture and folk architecture that characterize the region. The building materials selected for the renovation come from the region and are natural, e.g wood and lumber, rammed earth, and wicker or wickerwork with a local glass-like plant of the sedge family called "krachoot". The unmistakable local direction is also consistent in the furniture design. The resort's reconstructive approach therefore focuses on the fertile land and cultural visual context.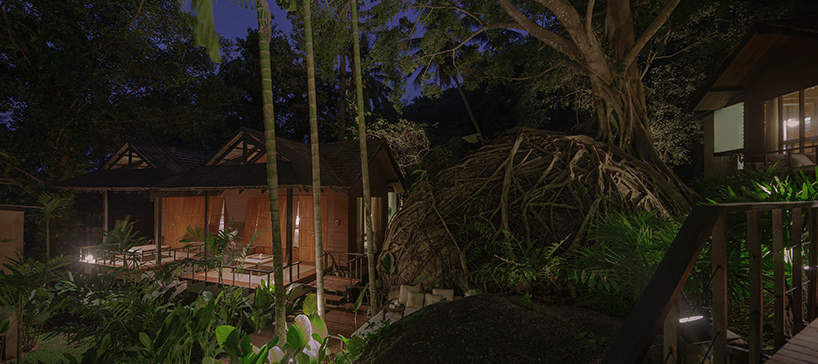 Mansion | all images by Soopakorn Srisakul
The Design in motion plan achieves optimal space management
The three building types of the existing building with the villas, the lobby and the restaurant had to be renovated according to the conceptual principles of the project and the resort had to be optimized in terms of development, interior design and comfort. Starting with the housing units the design team adjusts the views of the existing guesthouses, taking into account the limitations of the main hiking route. The plan addresses the issue of privacy, assembling the "forest floor", one of the forest layers, and surrounding the spaces with a group of shrubs and trees. As a natural privacy screen, the green elements radiate the essence of living in nature.
Consequently, three "green spaces" are formed in each villa. The living room and dining room are alfresco and semi-outdoor respectively, adding stepped terraces to the structure while also modifying the previous solid roofing material to transparent to allow for more natural light. The bedrooms in each unit have wooden awning windows that open onto the lush greenery. The furniture design is based on folk mores and presents the pattern of sitting on the floor, leaning on a local lower seat called "Tang" and sleeping on a local lower bed called "Krae", leading to the concept's cultural value.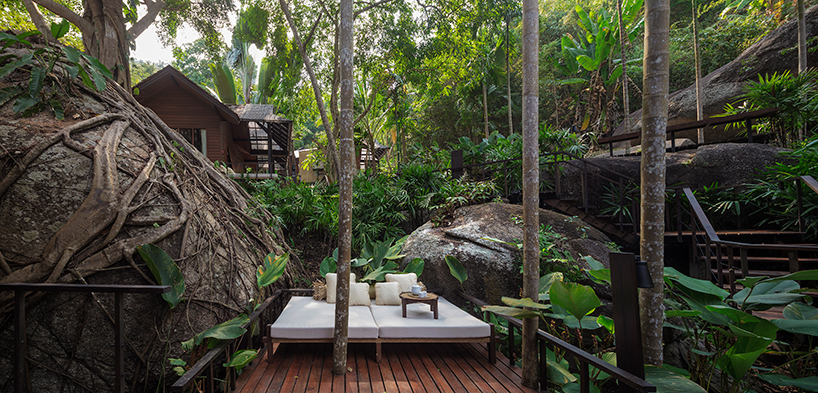 sofa bed in the forest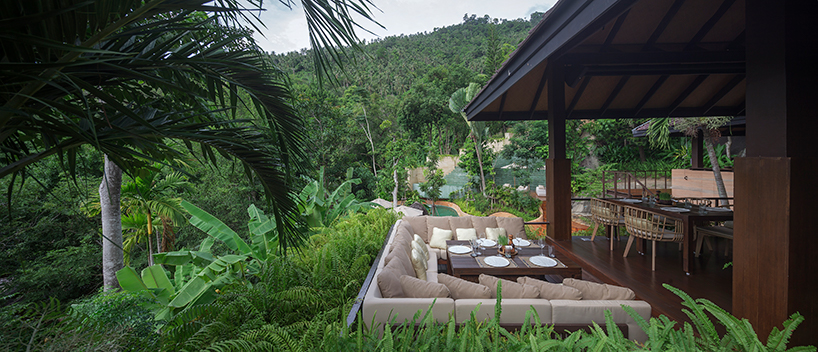 Dinner near the hotel pool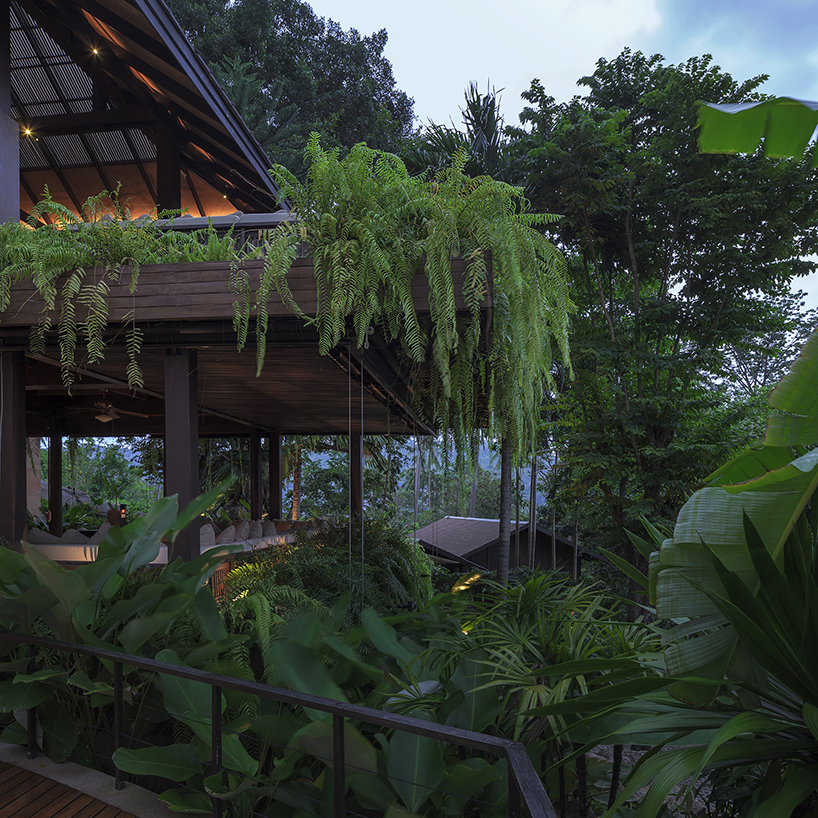 restaurant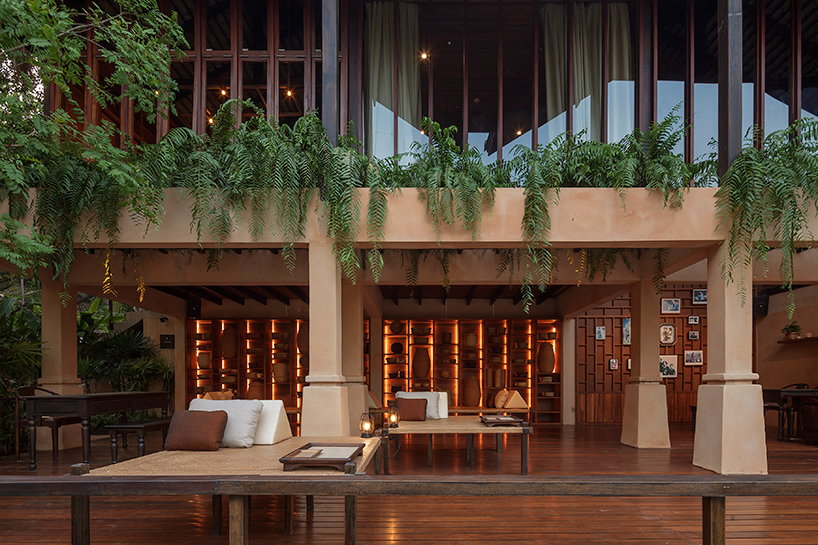 lobby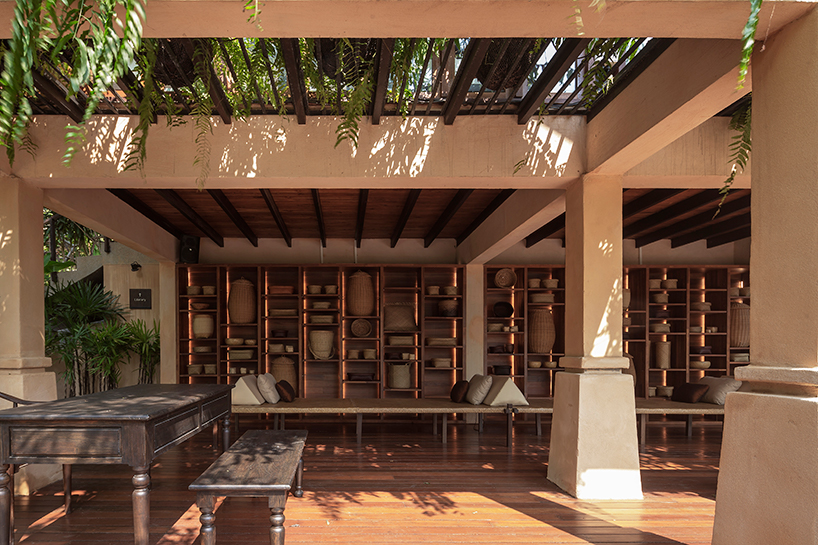 Lounge area in the shade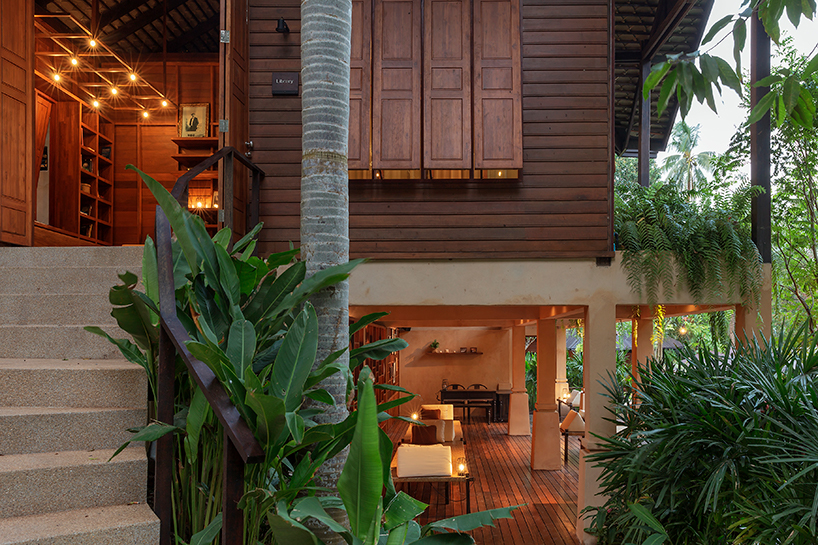 reception