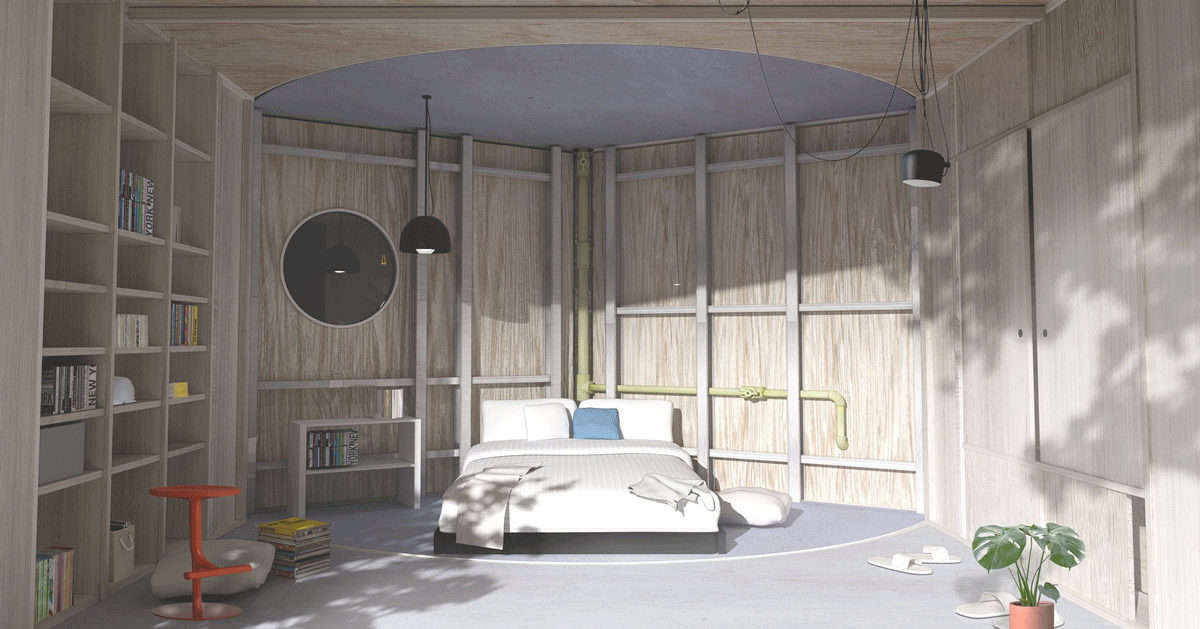 Studio Supra-Simplicity proposes an evolving micro-cabin
In a rapidly spinning display, this micro-scale booth shifts its program around its axis to integrate three different "scenes" of life onto one small platform. Studio Supra-Simplicity conceptualizes "3 Scenes of Home" to compactly integrate spaces for sleeping, eating and washing into a mechanism that marks a refined integration between the typical home program and the theatrical function of a stage.
The structure eliminates the need for unnecessary traffic areas and gives it a distinctive dynamic character. She maximizes her inner mobility and flexibility of living while sitting with a micro footprint. It minimizes the external impact by only covering a tiny piece of natural land and recycles rainwater for daily use through its rooftop collection system.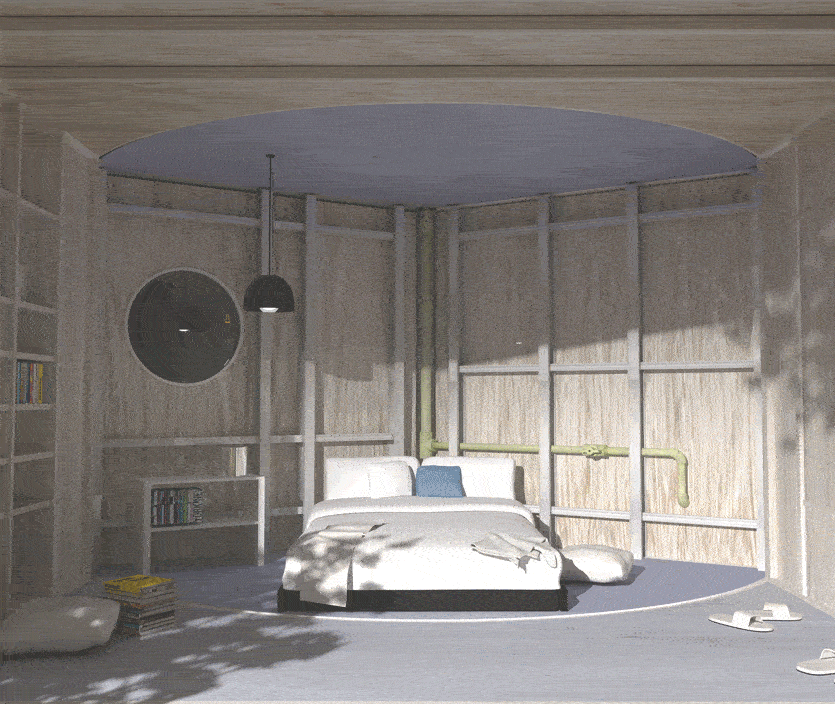 scene change system
a theatrical mechanism maximizes mobility
In an effort to efficiently optimize the quality of living in a micro home with the smallest possible footprint, Studio Supra-Simplicity condenses all programs into three basic scenes – or so-called rooms. A bedroom, kitchen and dining room, and washroom are compactly encapsulated within the wooden cylindrical volume. By implementing a revolving stage mechanism, the scenes are integrated together and fixed on the revolving platform like a theatrical scene changing system. The architects can do without unnecessary transitional spaces such as corridors or anterooms between the rooms. All transitions from one scene to another therefore rely only on the rotating mechanism, offering a playful, dynamic and efficient quality of home.
In the entrance, a shoebox volume is inserted into the cylinder, separating the entire cabin into Front of House – the space that opens to natural light – and Back of House – spaces hidden in the dark. Each scene is only usable while connecting to the front, which is similar to how a theater stage functions.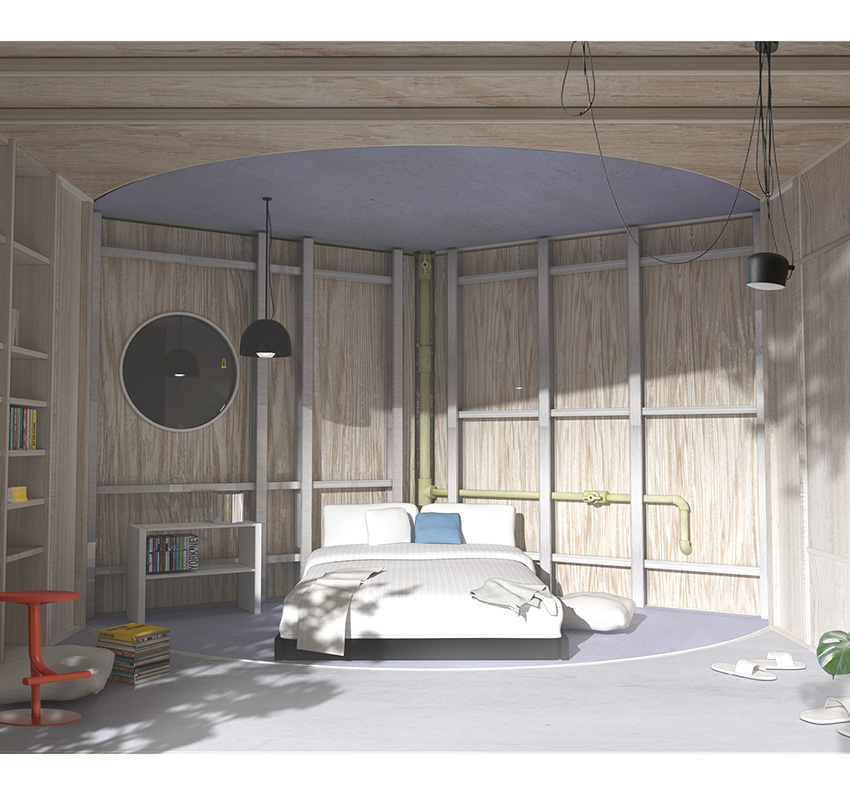 Scene 1 – Sleeping (Bedroom)
a minimal footprint with a rainwater harvesting system
On top of the rotating three-scene mechanism, Studio Supra-Simplicity installs a rainwater harvesting system to collect and store rainwater for residents' daily use. With zero energy consumption, the system is primarily gravity powered and consists of a rainwater collection tank, a vortex filter and drain pipes that help filter out most of the harmful particles. Clean water is then treated in a reverse osmosis system to drinking water quality and the supply for the various scenes is generated. Finally, all wastewater flows into a centralized collection of sewage pipes, which are connected to an underground septic tank for storage and further treatment.
The conceptual design is a proposal for Buildner's MicroHome Competition Edition 2023 and received an honorable mention from the jury.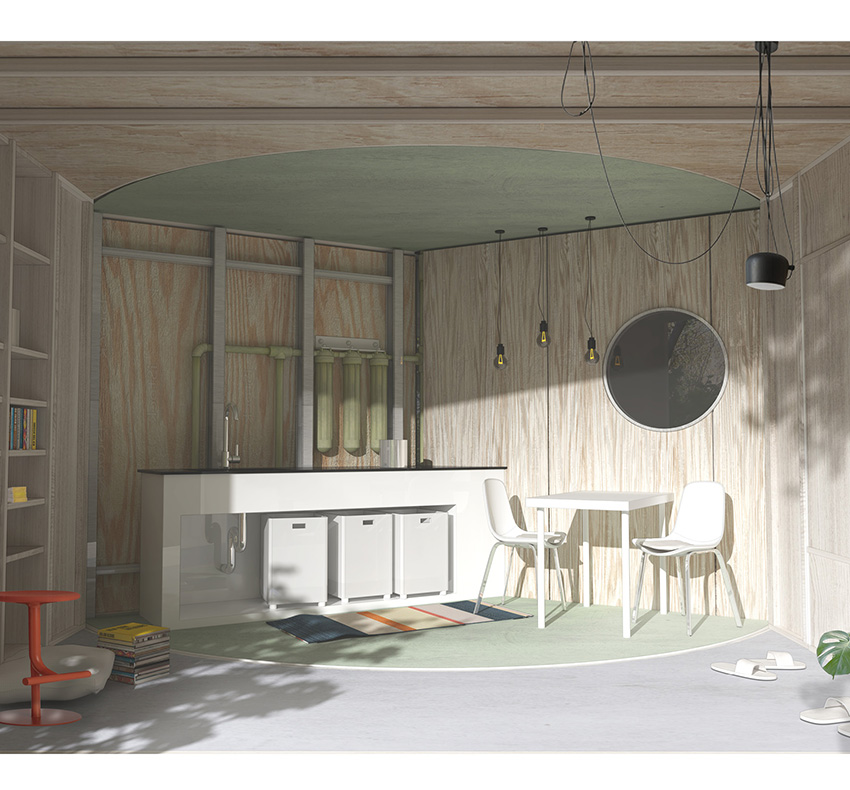 Scene 2 – Food (Kitchen & Dining Room)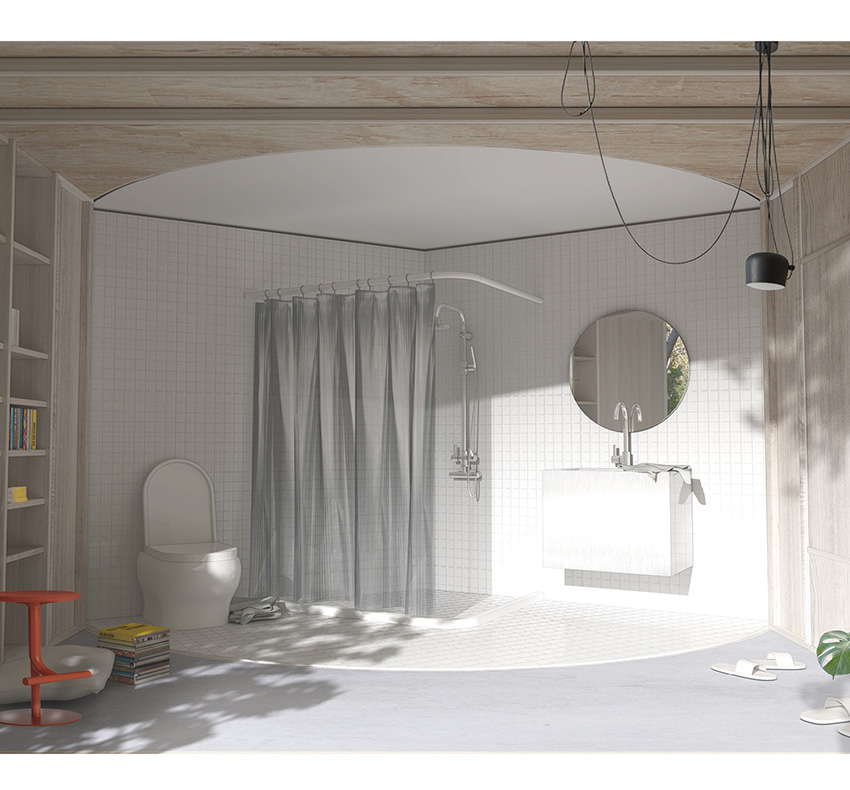 Scene 3 – Washing (toilet & shower)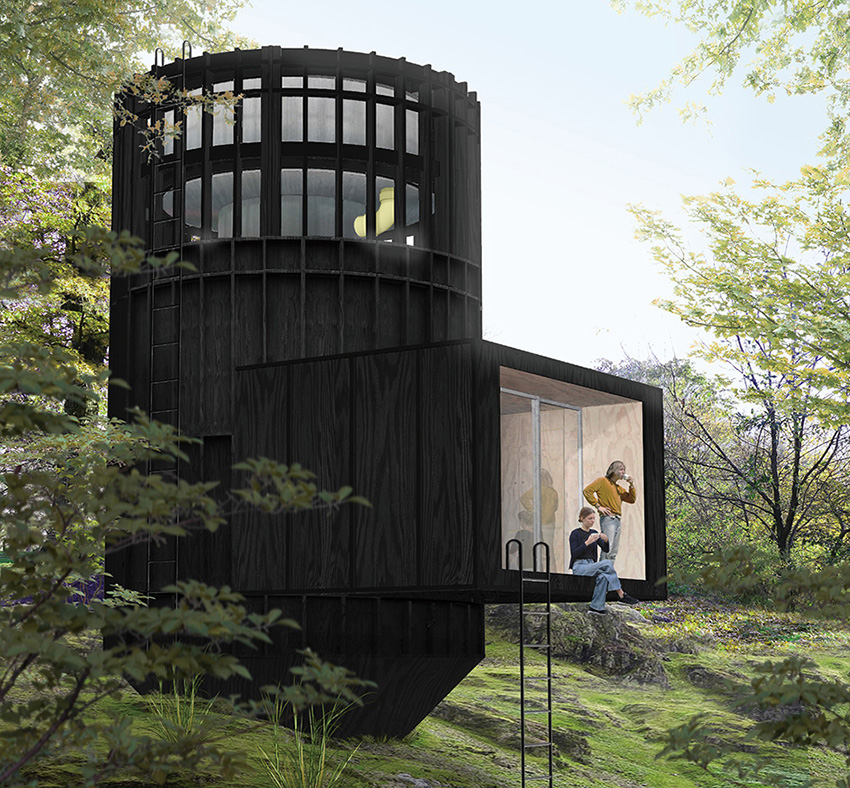 3 scenes from home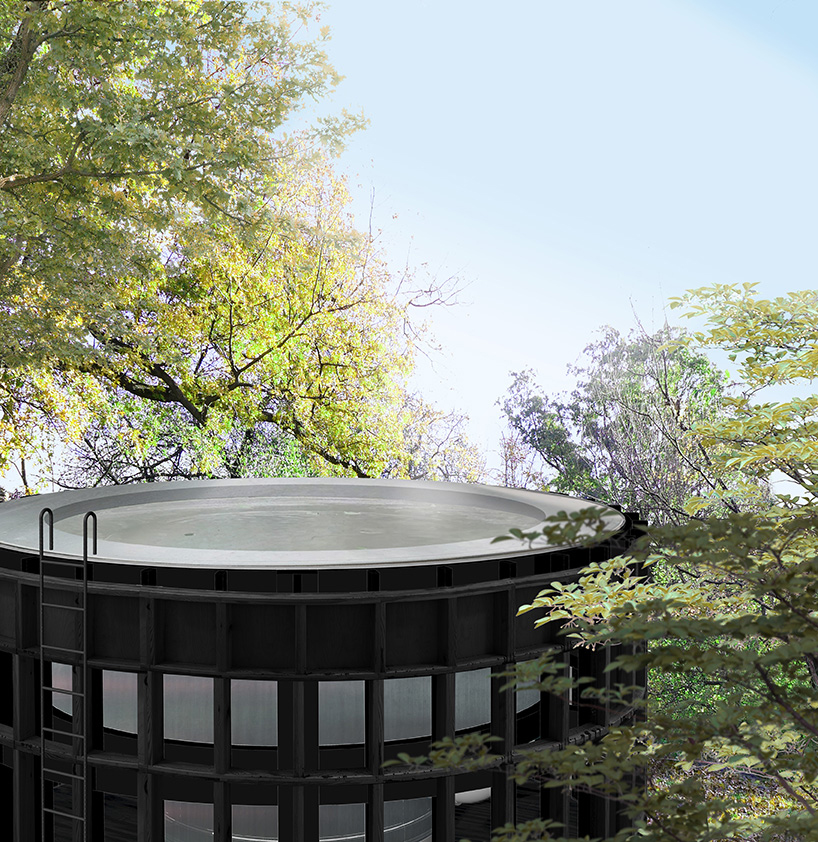 Rainwater collection tank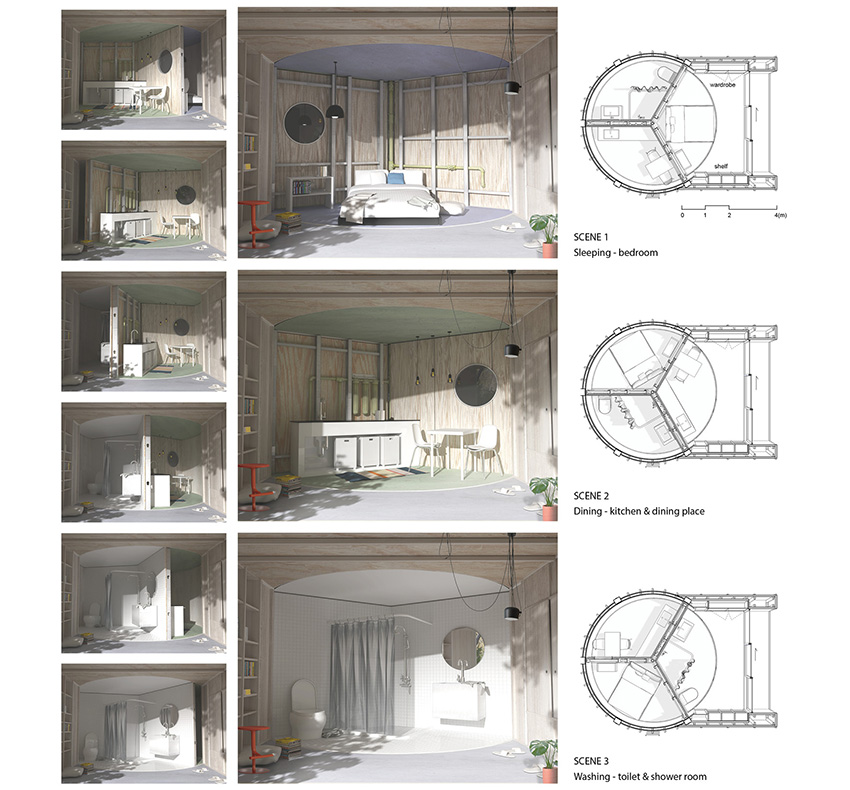 Project info:
Surname: 3 scenes from home
architecture: Studio Supra Simplicities
designboom received this project from ours DIY submissions Feature where we invite our readers to submit their own work for publication. Check out more of our readers' project submissions here.
edited by: ravail khan | design boom