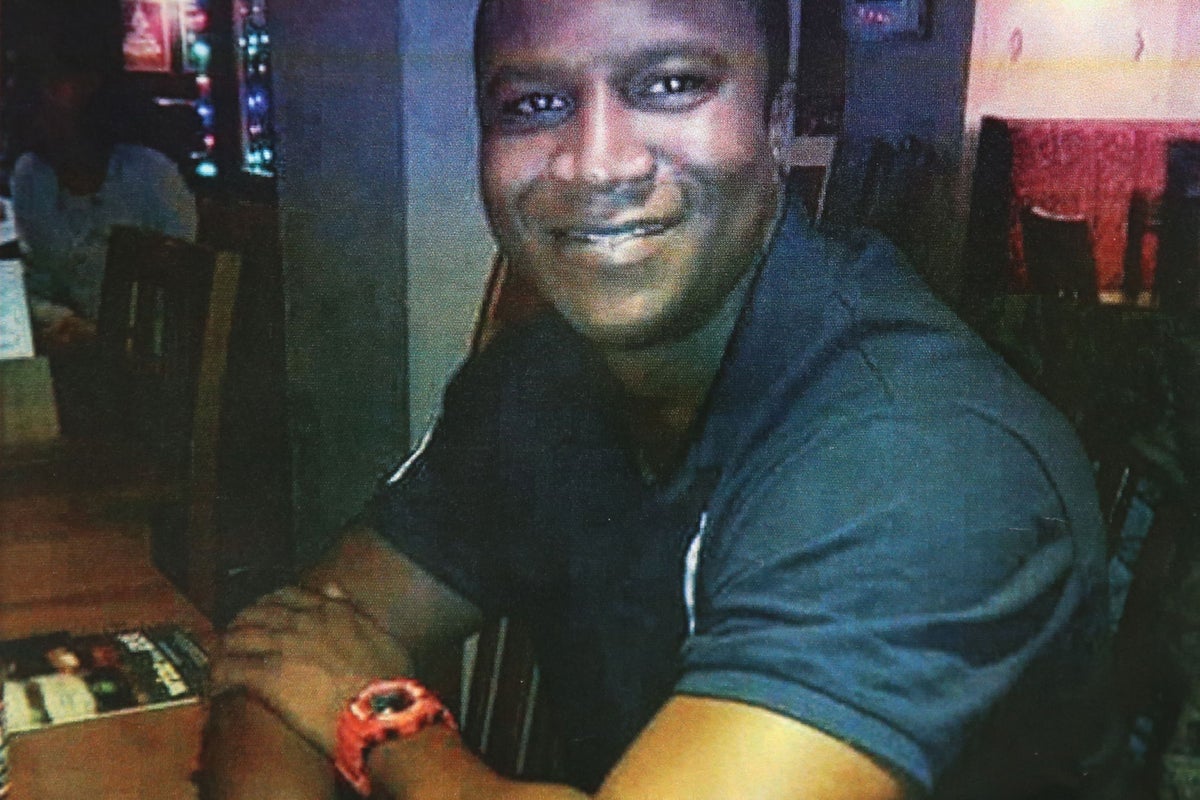 Sheku Bayoh's partner was told that "a black man had been found dead," according to police evidence read during an inquest into his death.
The statement came from Detective Sergeant Dursley, who was one of the officers involved in the police incident in which Mr Bayoh, 31, died after being pinned to the ground by six officers in Kirkcaldy, Fife, in May 2015.
Mr Bayoh's sister, Kadi Johnson, previously told the inquiry that she believes her brother was treated the way he was because he was black.
She also said that she and her family felt "suspicious" after being given different versions of how her brother died.
The inquest, taking place at Capital House in Edinburgh, is looking into the circumstances of his death and whether race was a factor.
A statement written by Ds Dursley describing how news of the death was relayed to Mr Bayoh's partner Collette Bell was read to the inquest.
It said, "Between myself and DI Colin Robson, we engaged Wayne Parker to say words to Collette Bell that 'a black man was found dead' and we suspected it could be her partner."
As evidence in the inquest, Detective Constable Andrew Mitchell, who was involved in delivering the news of Mr Bayoh's death to Ms Bell, was asked if the description sounded accurate.
He said, "I honestly can't remember the exact wording."
But when asked by Angela Grahame KC, the investigation's lead counsel, if Ds Dursley's description sounded similar to what Ms Bell was told, he replied: "Yes."
Dc Mitchell later said he didn't remember using the words "found dead".
Part of Ms Bell's statement to police was read to the inquest, in which she said: "The officers said there is no easy way to say this, I will just say it.
"A body matching your partner's description has been found and we believe it to be Shek."
It continued: "I said, well, what happened to him? Has he collapsed? Does he have any wounds? Was he hurt? Was he stabbed? What happened? Where was he found? They just said a passer-by found him dead on the street."
Ms Grahame asked DC Mitchell if he remembered her asking questions at the time of meeting Ms Bell.
The witness told the inquest that he may have overlooked her questions as he was busy comforting her baby while officers were trying to get a statement from her.
However, referring to Ms Bell's comments about officers telling her "a passer-by found Sheku dead," he said, "She was never told that."
More of Ms Bell's testimony was read at the inquest, in which she said officers asked her to testify because they were looking for someone in connection with Mr Bayoh's death.
Ms Grahame asked Dc Mitchell if this was true, to which he replied 'no', adding: 'We will have said it is still an ongoing investigation and we are obviously trying to get in touch with witnesses to try to determine exactly what happened." .
The investigation found that DC Mitchell knew at the time he spoke to Ms Bell that Mr Bayoh had been in contact with police and that he was alive.
Ms Grahame asked the witness: "They talked about sharing information with the family as soon as possible.
"Can you explain why you didn't tell Collette Bell that he died after coming into contact with the police?"
Dc Mitchell replied: "It was an order from our superiors that we should have nothing to do with the police contact until it was properly investigated."
When asked why this information was being retained, Dc Mitchell added: "It was still under investigation at this time.
"Obviously we didn't know all the details, so once we got it it was obvious to give a clear picture later."
Ms Grahame asked: "What's wrong with telling families that this is the real truth of the matter?"
Dc Mitchell replied: "Yeah, to be honest I don't know.
"I really do not know it.
"That was just the decision that was made that day."
Ms Grahame asked what the disadvantage was of "hiding something from families about the fact that there was police contact", to which the witness replied: "They then lose their confidence."
He went on to tell the inquiry that the impact of the loss of trust on families is "massive because the relationship then goes out the window."
The inquest before Lord Bracadale continues on Wednesday.