Reps Adam Schiff, Eric Swalwell and Ilhan Omar, who were stripped of their committee duties by House Speaker Kevin McCarthy, accused him of "political revenge" in a statement Tuesday night after he blocked their appointments again.
"It is disappointing but not surprising that Kevin McCarthy has capitulated to the right wing of his faction, undermining the integrity of Congress and harming our national security in the process," said Schiff, D-Calif., of Swalwell, D-Calif. , and Omar, D-Minn., in a joint statement.
The statement is the latest exchange in an ongoing dispute between McCarthy, R-Calif., and the three Democrats, after he removed them from Election Committee duties after Republicans took the majority and he was elected speaker.
"He struck a corrupt deal in his desperate and near-failure attempt to win the speakership, a deal that required political vengeance on the three of us," the Democrats continued in the letter.
HOUSE SPEAKER MCCARTHY REFUSES JEFFRIES' REQUEST TO RETRIEVE SHIP, SWALWELL TO THE INTELLIGENCE COMMITTEE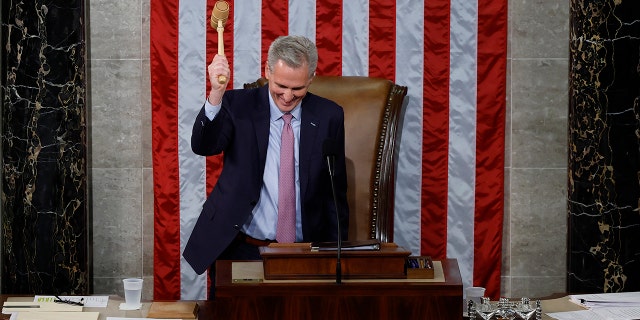 Immediately following his decision, Schiff, Swalwell and Omar asked McCarthy to reconsider.
But he hasn't.
"Despite these efforts, McCarthy will not succeed. We will continue to speak out against extremism and fiercely defend our democracy," said the democratic trio.
After the three Democrats failed to persuade McCarthy to resume their positions on the committee, Minority Leader Hakeem Jeffries, DN.Y., the senior Democrat in the House of Representatives, vouched for them.
In a letter, Jeffries said the lawmakers were "excellently qualified" and had experience that warranted a position overseeing the nation's intelligence agencies. Schiff and Swalwell previously served on the House Intelligence Committee, while Omar served on the Foreign Affairs Committee.
MCCARTHY CONFIRMS SCHIFF, SWALWELL, OMAR WILL LOSE COMMITTEE SEATS
Even that failed to convince McCarthy, who said in an open letter that "national security" and "integrity" were more important than "partisan loyalty."
"I appreciate the loyalty you show to your fellow Democrats, and I recognize your efforts to restore two members of Congress to the House Intelligence Committee," McCarthy wrote to Jeffries. "But I cannot put party loyalty above national security, and I cannot simply accept years of service as the sole criterion for membership of this important committee. Integrity is more important."
The Republican added, "To maintain a standard worthy of the responsibility of this committee, I hereby decline the appointment of Rep. Adam Schiff and Rep. Eric Swalwell to serve on the Intelligence Committee."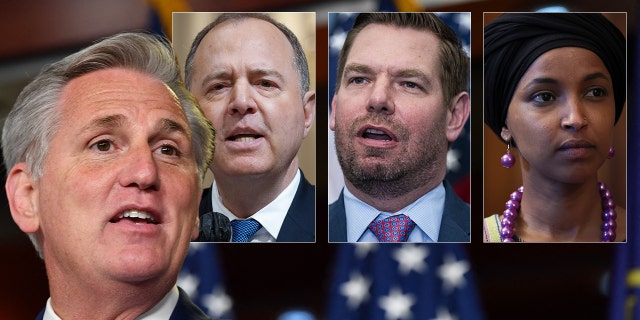 McCarthy also said, "In my estimation, the abuse of this body during the 116th and 117th Congresses seriously undermined its primary national security and oversight responsibilities — ultimately making our nation less secure."
ILHAN OMAR TELLS CNN: "I HAVE NO REGRETS FOR MAKING US AND ISRAEL EQUAL TO THE TALIBAN OWE JEWISH LEGISLATORS
"That's why, as we enter a new Congress, I am committed to restoring the Intelligence Committee to a place of genuine honesty and credibility that will win back the trust of the American people," the California Republican said.
McCarthy claims Swalwell's past relationship with suspected Chinese spy Christine Fang, Schiff's alleged tendency to lie to Americans, and Omar's outspoken criticism of Israel keep them away from their respective committees.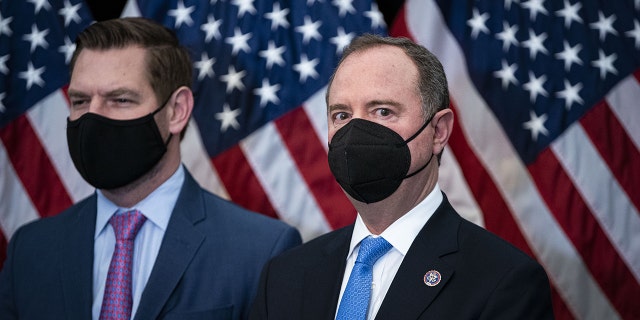 Since becoming Speaker of the House, McCarthy has vowed to make the legislative process "more open and transparent." He has also created special committees tasked with examining the government's response to the COVID-19 pandemic and arming the federal government.
CLICK HERE TO GET THE FOX NEWS APP
Republicans on the select subcommittee on the coronavirus pandemic include Ohio Chairman Brad Wenstrup and New York Representatives Nicole Malliotakis, Iowa's Mariannette Miller Meeks, Arizona's Debbie Lesko, Texas' Michael Cloud, Pennsylvania's John Joyce and Majories Taylor Greene from Georgia, Ronny Jackson from Texas and Rich McCormick from Georgia.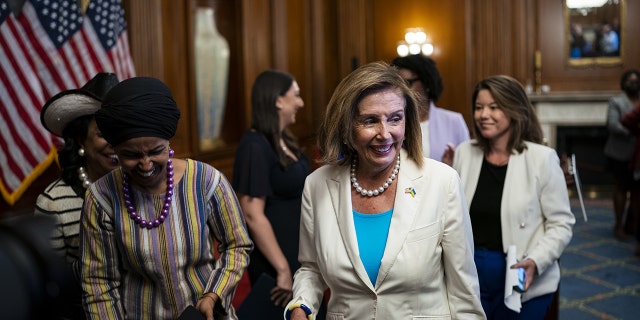 GOP members of the Select Subcommittee on the Weaponization of the Federal Government include Chairman Jim Jordan of Ohio and Representatives Darrell Issa of California, Thomas Massie of Kentucky, Chris Stewart of Utah, Elise Stephanik of New York, Mike Johnson of Louisiana , Chip Roy from Texas, Kelly Armstrong from North Dakota, Greg Steube from Florida, Dan Bishop from North Carolina, Kat Cammack and Harriet Hageman from Wyoming.