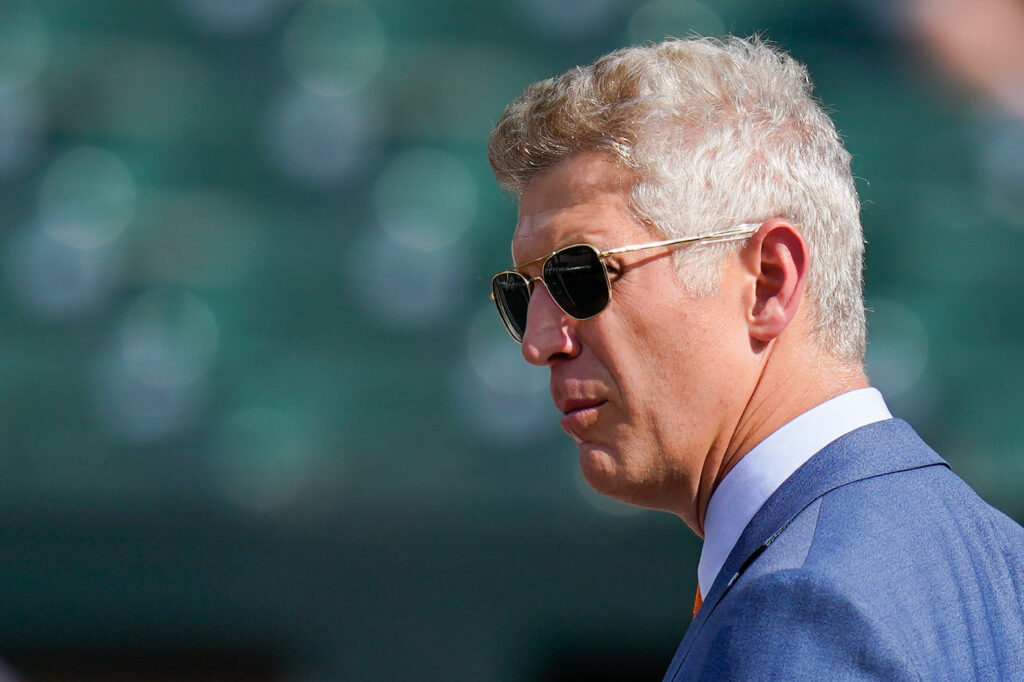 Though the free-agent market has been largely wiped out and the traded market is similarly thin on starting pitchers, Orioles general manager Mike Elias said in a weekend appearance on 105.7 FM The Fan that he's still hoping to add another starter to his team (link via Nathan Ruiz from Baltimore Sun). While Elias has expressed confidence in his collection of young guns and the "good and good variability" the group can bring to the table, it's hard to avoid the issue that the Orioles' projected rotation will change the MLB experience, to put it mildly, is low.
Baltimore effectively swapped the 2022 innings leader Jordan Lyles for an older one Kyle Gibsonto decline a net $10m decision on the former (purchase a $11m option for $1m) and then sign Gibson at the same price of $10m. The widespread expectation at the time was that Gibson would be just one of several new additions to the starting crew; Elias had spoken of an upcoming raise and the O's were (and still are) lacking in experienced additions.
But that didn't work out. The Orioles have been tied to several starters over the course of the offseason, including in particular Jameson Taillon, but the team's free-agent pursuits have so far come up empty-handed. Elias suggested that the O's "had some very tight opportunities" when it came to the free-agent market, but that those goals "just went in a different direction." A rumored Orioles destination, Michael Wacha, remains unsigned – although it is not clear if there have been any recent substantive talks. Given that he posted a 3.32 ERA in 127 2/3 innings last year, Wacha seems likely hoping for a multi-year pact, which the Orioles haven't given a free agent since Elias took over as general manager.
Behind Gibson, the Orioles' only starters with even a year of MLB tenure are left-handers John means and Bruce Zimmermanplus right handed Austin Voth, Tyler Wells, Dean Kremer and Donor Watkins. Means won't be back from surgery on Tommy John until the summer at the earliest, and Zimmermann sports a 5.65 ERA in 145 MLB frames. Wells and Kremer both recorded low strikeout rates and strong walk rates on 20+ starts for Baltimore in 2022, making them likely favorites to start work in 2023. Voth was still very good after being picked up by Nationals and throwing to a 2.94 ERA in 79 2/3 frames with Baltimore. Watkins has had solid results for most of the season, despite not having any missed bats himself, but he slacked off quite a bit at the track last year.
The O's have several top-end prospects emerging Grayson Rodriguez chief among them. The right-hander is considered one of the sport's best minor-league weapons, but he also missed much of the 2022 season with a lat strain. Rodriguez only pitched 75 2/3 innings last year and has never pitched 110 innings in a pro season. Southpaw DL hall was used as a reliever on his big league debut and had some prominent command fights in the minors, although he also missed bats at an amazing rate. Elsewhere on the 40-strong list, right-handers Kyle Bradish and Mike Bauman and left Drawn Rome represent other candidates. Both Bradish and Baumann have played in the majors.
In general, it's a thin group in terms of proven innings and workload. The addition of another arm makes sense, although Elias alluded to the fact that the thin market for starters has created a growing focus on the trade market across the league. It no longer looks like the Marlins are trading off the rotation after the trade Pablo Lopez to the twins – GM Kim Ng said it would be difficult for Miami to move another starter now – and the market isn't teeming with other options. The Mariners have two choices Chris Flexen and Marco Gonzalesand speculatively speaking, Elias was in Astros' front office during development Adrian Hauser, who looks like he's been forced out of a rotation job in Milwaukee. The Mets were reportedly open to offers Carlo Carrasco sometimes this winter too, and there are certainly other gun veterans who are silently eliciting varying degrees of interest in the sport.
Overall, it's been a very quiet offseason for the Orioles, who have added a quartet of veterans at short notice. Gibson (one year, $10 million), Adam Frazier (one year, $8 million) and Mychal Givens (one year, $5 million) all signed as free agents while the O's acquired James McCann to back up Adley traction man behind the record (taking two years and $5 million of McCann's remaining contract). That gives the Orioles a projected salary total of $63 million per roster resource, which aligns squarely with their season-ending total in 2022.
This payroll forecast contradicts Elias' August comments, in which he indicated that the team's plan was to "significantly escalate payroll." Elias said last Friday that it's been a "competitive winter" in terms of player acquisitions, suggesting the O's have had more irons in the fire but have yet to pull off any additional signings/trades of any significance. He added that he and his staff remain focused on improving the squad by the start of spring training, although the clock is obviously ticking towards that goal and many opportunities to achieve it have already been closed.