The MSI Summit E16 Flip Evo is MSI's latest entry into the growing horde of 2-in-1 laptops, but while many others sacrifice either performance or screen size in favor of portability and weight reduction, MSI has decided to completely disregard this and to bring us a 2-in-1 without compromise. Almost.
I was sent a review unit that I've been testing and using for work and play for the last few weeks to see how it stacks up against not only its manufacturer's claims but also its competitors and to see if it occupies a spot in our list of the best 2-in-1 laptops for creatives (opens in new tab)for example.
And what I've found is that it impresses with its understated but slim design, large touchscreen and performance that's on par with more expensive rivals, while the weight might be a little too much for mere mortals to consider as a tablet to use, and while the screen is responsive and offers a refresh rate of up to 165Hz, it falls short of some close rivals in terms of resolution and color depth. Let's see what our full MSI Summit E16 Flip Evo review revealed.
MSI Summit E16 Flip Evo review: design and build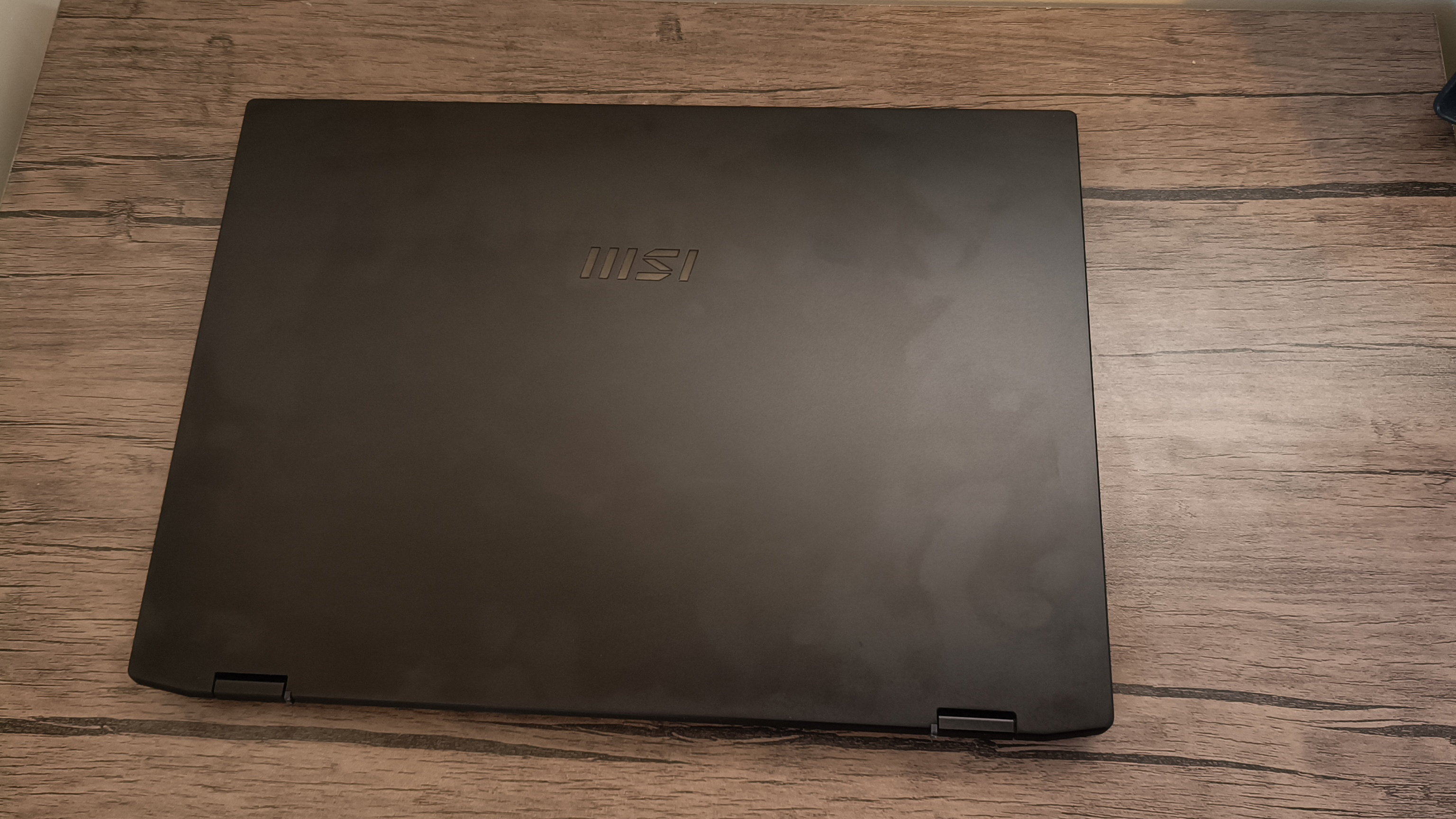 As we've come to expect from MSI, the Summit E16 Flip Evo greets you with its imposing sleek black design, which also has the company's logo etched in black. It's not exactly compact either, with the large 16-inch screen and weighing nearly two pounds, picking it up and carrying it gives a reassuring sense of ruggedness, if not a tremendous sense of portability.
The keyboard looks and feels good too, even for someone like me who isn't a fan of native laptop keyboards and prefers to plug in his own massive mechanical clacker at the first opportunity. However, the touchpad is plastic and feels oddly cheap for a laptop in this price and performance range.
Perhaps the reason for this lies in the fact that this is a 2-in-1 device with a touchscreen, so MSI expects us to interact directly with the screen and not with a pad. The screen pivots all the way back for use as a tablet, or what I preferred in "tent" mode, with the screen facing me like a faux canvas or small touchscreen TV.
MSI Summit E16 Flip Evo review: features and screen
The touchscreen and 2-in-1 tablet functionality is obviously the key feature of this MSI Summit model, with the MSI stylus included with the laptop.
The E16 screen follows one of the big trends of recent years as it has a 16:10 screen ratio, which is larger than before. This move reflects a focus on usability for content creators and designers (as well as gamers) moving beyond the more cinema-centric 16:9 ratio.
I've been using a 16:10 screen on several laptops over the past few months now, both 13, 14 and 16 inch, and having that extra real estate to work with, especially on the large 16 inch screen by MSI, is a real boon for both visual work (like photo editing) and writing, including this review.
Despite the screen being a Full HD offering, it only offers up to 1200p resolution, which isn't as good as many competitors that offer QHD or higher resolution screens. This means that the pixel density here isn't really high enough to work with 4K video editing, for example, which is a shame because the powerful Intel Core i7-1280P processor seems more than up to the task. When working on highly detailed images, you can see the pixelation, which is far from ideal.
Similarly, at 324 nits of brightness and a 900:1 contrast ratio, brightness and contrast are more mundane than outstanding (and lag behind models like the Dell XPS 16). I struggled a bit to see everything as clearly as I wanted when working in very bright environments, e.g. B. outdoors (or more often when I tested this in January, by the café window…).
Similarly, watching movies and TV felt a bit overwhelming thanks to the combination of contrast ratio and resolution. HDR mode helps there, but it's more power-intensive and affects battery life.
One thing I absolutely love about this laptop is that it has pretty much all the ports you need with two Thunderbolt USB-C ports with PD charging, two USB3.2 Type-A ports, a direct HDMI connection and even a micro SD card reader, which will prove particularly useful for photographers and video artists.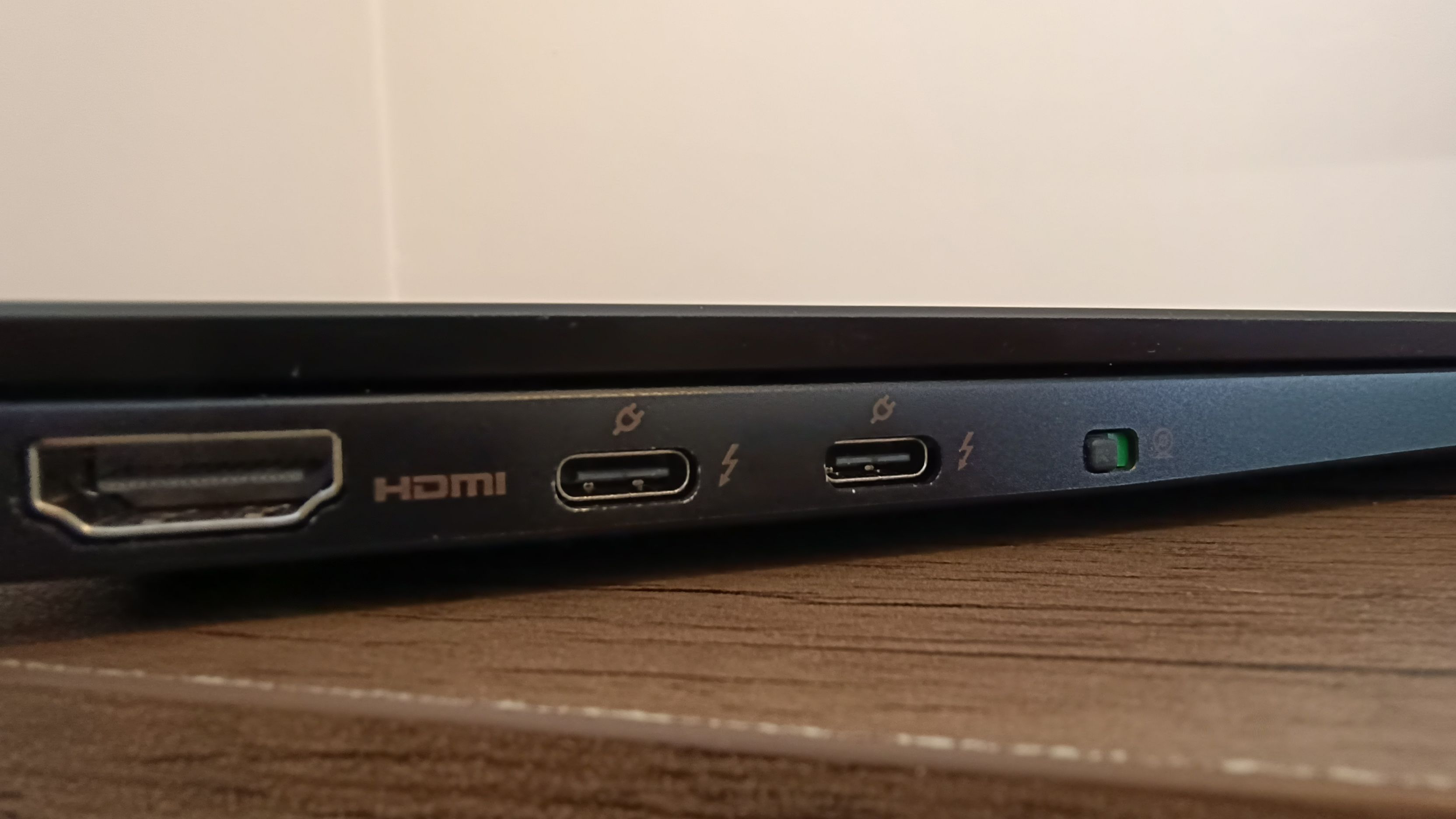 MSI Summit E16 Flip Evo review: performance and battery life
MSI Summit E16 Flip Evo: benchmark results
Geek Bank 5:
Single core: 1,632
Multi-core: 8,256
Cinebench R23:
Single core: 1,517
Multi-core: 6,839
PC Mark 10:
Score: 4,641 (Essentials: 9,352; Productivity: 6,425; Digital Content Creation: 4,517)
I've found the MSI Summit to be a very capable all-around performer. I've used Photoshop and other creative software with no issues, even running apps simultaneously, so it's a capable multitasker. The responsive touchscreen was also fun and helped my workflow significantly when it came to visual work like photo editing.
However, the laptop runs with integrated Intel Iris Xe Graphics rather than a dedicated graphics card, and that shows in the Cinebench R23 benchmark scoring, which is designed to show the laptop's ability to run and process Cinema 4D work. A multi-core score of 6,839 isn't spectacular for a 14-core processor like the one powering my review unit, and falls short of some similarly priced laptops.
Geekbench 5 benchmarking was more positive. The multi-core score of 8,256 shows how strong an all-round performer is, which is mainly boosted by efficient hard disk encryption, good HDR performance and image inpainting, which speaks in particular for the screen's fast refresh rate.
PCMark 10 tests further confirmed that this laptop performs very well as a general workhorse. App launch, video conferencing, productivity tasks, and photo editing all performed very well, while rendering and video editing performance lagged a bit.
The Windows Hello enabled webcam is a Full HD webcam, and not only the Windows Hello feature is easy to set up and works very well (I sit down and open the thing and it logs me in by looking at it and making sure it's working the right person running it), the webcam works really well too. In video conferencing, my face looked sharp and bright without looking washed out, and is definitely one of the better built-in laptop webcams I've tested over the past few months.
In terms of depth of sound, speaker performance is unspectacular. Listening to Spotify or HD audio felt a little empty, while watching video content in tent mode was aided by sound from the superficial 2W speakers, which travel better and are amplified by the hard surfaces of the laptop itself. When you work on audio production, you need headphones for serious editing work.
MSI claims a battery life of over 12 hours for light work, and my testing seemed to back that up. Obviously more power-hungry programs will shut that down a little quicker, but my video test of streaming TV shows from a streaming service showed a little over 11 hours from a full charge before it finally failed. That's pretty much a whole season of The Simpsons before you have to start looking for an outlet.
Again, you won't get this laptop as a gaming powerhouse due to the limited graphics card, but lighter games will run smoothly, again helped by the 165Hz screen.
MSI Summit E16 Flip Evo review: price
The MSI Summit in the configuration I tested with an Intel i7-1280P processor, 16GB of RAM and 512GB of SSD storage costs around £1,299 in the UK. You can get it with the similar i7-1260P processor in the US for $1,549 but discounted to under $1,200 at the time of writing this article.
This puts this laptop in the premium mid-range, where it belongs. Add to this the deserved confidence in MSI's build quality, robustness and historical longevity of their machines, and you can consider this a reasonable price for this product.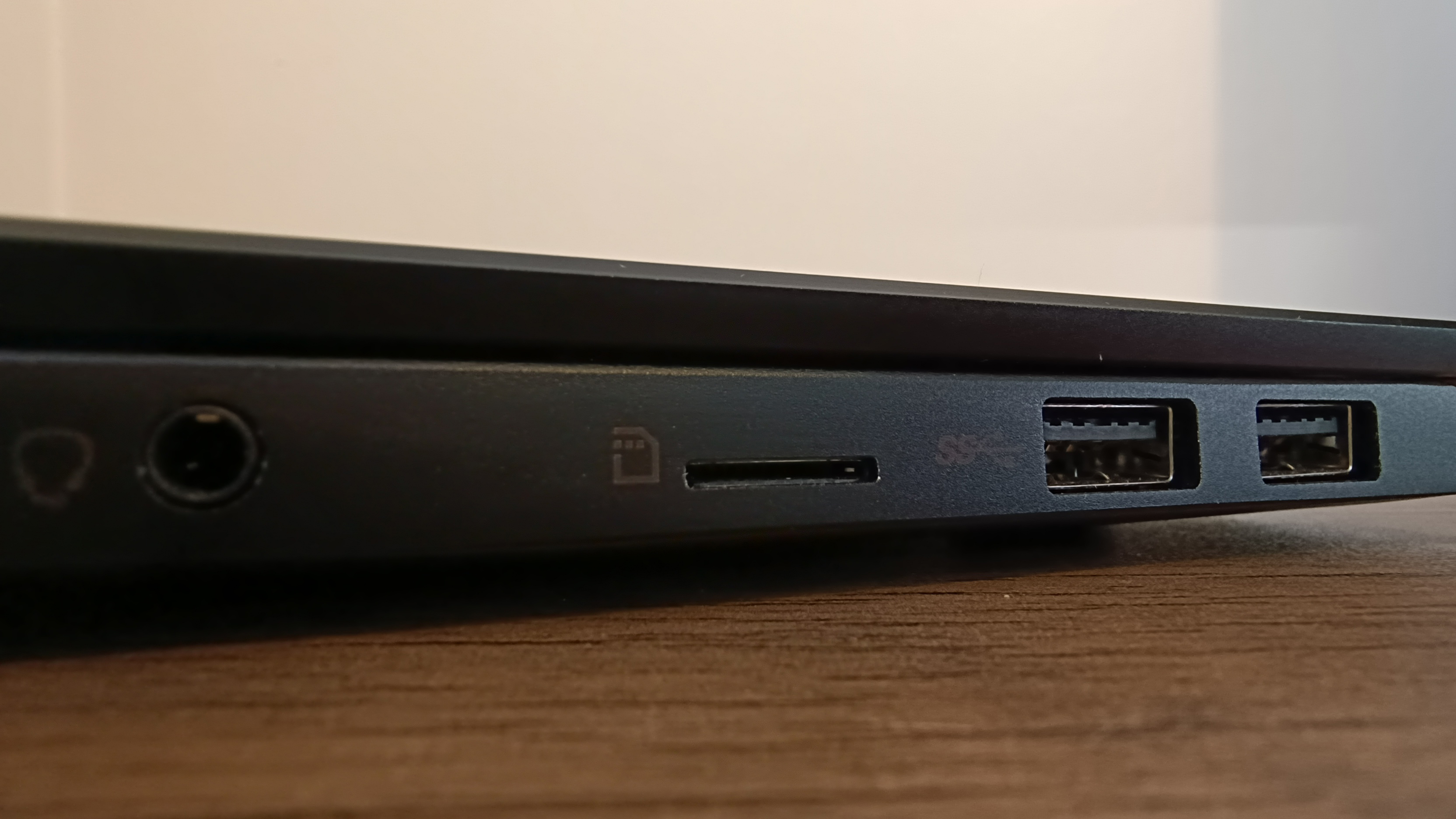 Should you buy the MSI Summit E16 Flip Evo?
MSI is one of those manufacturers that seems to have a very dedicated user base where people tend to stick with MSI laptops once they have one. This model certainly won't put any of those users off, as it's solidly built, sturdy (if a little heavy), has a large screen that's ideal for content creation, and a processor that's compatible with pretty much anything under 3D or motion images can multitask. If you have no illusions about using heavy 3D or video editing software or running a music studio in a professional environment, it will not disappoint.