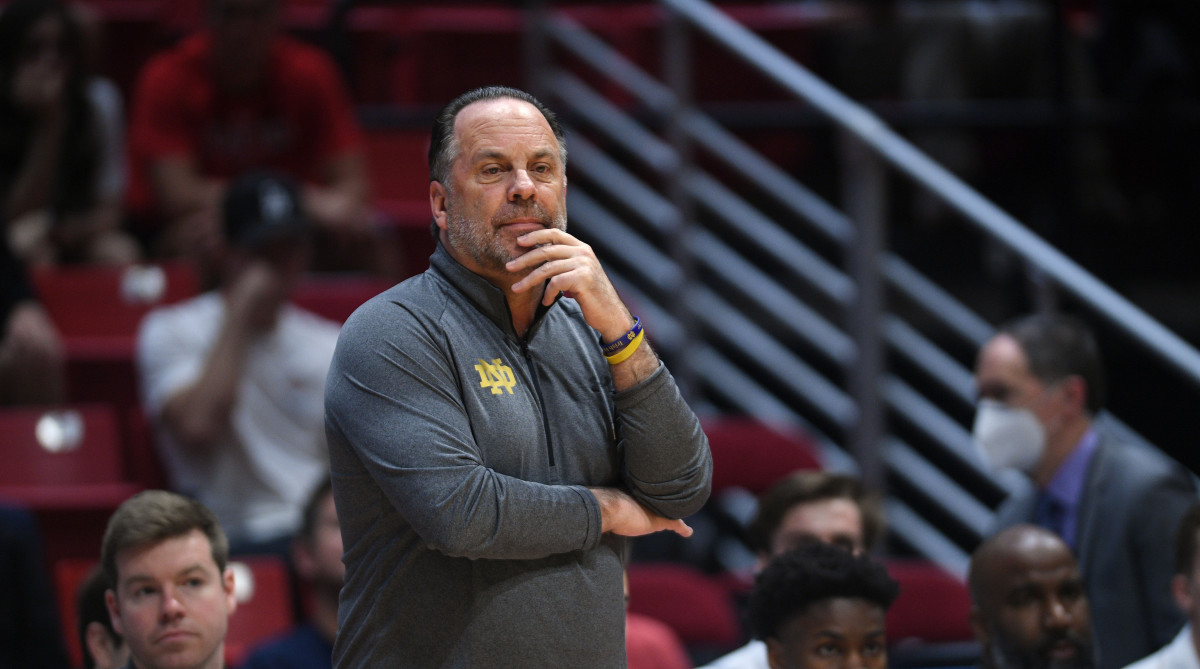 In an increasingly complicated and vulnerable profession, Mike Brey has kept his coaching philosophy simple and unwavering. "Go to class and don't flip the ball and we'll get along," was the mantra. He ran a clean program and preferred clean basketball, and Notre Dame has benefited greatly from his 23-year tenure.
On Thursday afternoon, the school announced that Brey would be stepping down at the end of the season. When that happens, Notre Dame's all-time top basketball coach will have nearly 500 wins at the school, about 100 more than second-place finisher Digger Phelps. He has long been an excellent fit in a sport where salutes wear off quickly.
But barring an absurd miracle being managed by Brey's lackluster finals team, Phelps will still be the only Final Four appearance in Fighting Irish history – and that was 45 years ago. It's an abiding mystery as to why Notre Dame hasn't made it into the sport's upper league for more than an occasional time warp.
Catholic schools had an immense historical impact on men's college hoops. The list of national champions is long: Villanova three times; San Francisco twice; Georgetown, Marquette, Loyola Chicago, La Salle and Holy Cross once each. Several others have made it to the NCAA tournament title game: Gonzaga (twice), Seton Hall, Dayton, Seattle, St. John's.
Notre Dame? Never. The most athletic and ambitious of all Catholic schools slid into that one Final Four in 1978, losing to Duke, who then lost to Kentucky for the title. And the Irish have never returned since.
Of course, that could have something to do with priorities. Of the dozen schools listed above that have won or played for a Hoops title, none are involved in big football. Notre Dame pretty much invented big football. This has always been the sport of paramount importance under the Golden Dome.
However, that shouldn't stop the Irish from being better at men's basketball. It's not an either/or proposition. The women's program has won two national championships, competed in five title games, and appeared in nine Final Fours. So it's not like there's anything in the Purcell Pavilion that's preventing Notre Dame from achieving greatness.
The men's program needs to find its own Muffet McGraw, a great coach who wanted to be at the school. Brey was that guy — philosophically minded and willing to work within the confines of Notre Dame — but without the titles or Final Fours. His best chance came in 2015, as March came painfully close to being the best month in the history of the Fighting Irish men's program.
Notre Dame went to Greensboro, the traditional heart of the Atlantic Coast Conference, and won the league tournament by beating Duke and Notre Carolina on back-to-back nights. 3 seeded in the NCAA Tournament, the Irishman beat Northeastern in the first round, outlived Butler in overtime in the second round and then drove past Wichita State in the Sweet 16.
What stood between Brey and the Final Four was 37-0 Kentucky, an absolute juggernaut of NBA talent. The Irish played an intelligent and steely game, controlling the pace and battling the larger Wildcats within, with neither team ever leading by more than six points. True to Brey's creed, Notre Dame turned the ball just once in the second half and took the lead for most of the last six minutes.
But star players Jerian Grant and Pat Connaughton each missed a free throw in that closing period, and Kentucky's Andrew Harrison broke a tie by taking two foul shots with six seconds remaining. Grant's three-pointers missed on the buzzer, and the chance to pull off an upset to match the most famous win in school history — which broke UCLA's record of 88 wins in 1974 — was gone.
Brey returned Notre Dame to the Elite Eight the following year at No. 6, but the underdog Irish were bowled by North Carolina in the second half. From that point on, the magic dissipated. Only two of Brey's next six teams made it to the NCAAs, and neither of them advanced past the second round.
Last season felt like a farewell game. Brey lured an experienced cast as well as freshman Blake Wesley (who would be a first-round draft pick) into the tournament as the No. 11, then beat Rutgers in the First Four and upset Alabama in the Round of 64. Notre Dame had Texas Tech was late on the ropes but let it escape, and speculation grew about Brey's retirement.
Instead, he came back, as did that team's experienced core and five-star rookie JJ Starling, but the results were dismal. The Irish are 9–10 overall, only 1–7 in the ACC. When a 5-13 team from Florida State rolled into South Bend on Tuesday night and took a 29-8 lead en route to an easy win, everyone had seen enough.
There aren't many trainers in this profession as popular as Brey. If he has enemies, nobody knows who they are. He's funny and never takes himself too seriously. He has held leadership positions within the coaching community and has been an avid participant in discussions about the direction of the sport, both on and off the pitch. He was also willing to discuss the sport's downsides, while many of his peers balked at the subject.
Brey was also everything Notre Dame had hoped for. When he arrived in Delaware after beginning his career as head coach, the Irishman had not been to the NCAA tournament in a decade. By the time he leaves, he will have at least 13 NCAA finishes on his resume.
The only thing missing is what every Notre Dame coach before him has been missing: a national championship.