Most working actors would jump at the chance of a big Hollywood role, while some celebs might instead make a more careful choice based on production schedule, salary, or cast. However, on the advice of a fortune teller, Matthew McConaughey decided to star in How To Lose a Guy in 10 Days.
"I remember walking down Sunset Boulevard one night, debating whether or not I would do it [in the Los Angeles area] when all of a sudden this guy appeared to me out of nowhere," he told Vanity Fair in an oral history of the film released Thursday, describing the man as a "fortune-telling guru."
"He's like, 'You're thinking about a movie right now. It's a romantic comedy. You have to do this or it will be one of the biggest regrets of your life. It's going to be a blast… and it's going to make a lot of money,'" McConaughey said.
The actor recalled wondering if the man was hired by executives producing the film. Still, he told Vanity Fair that after the encounter, he "got more serious about it" and accepted the role of Benjamin Barry the very next day.
The 2003 film grossed nearly $178 million worldwide and has since become a popular rom-com classic. However, as chronicled in Vanity Fair's extensive story, casting the Texan native as Kate Hudson's love interest presented some challenges.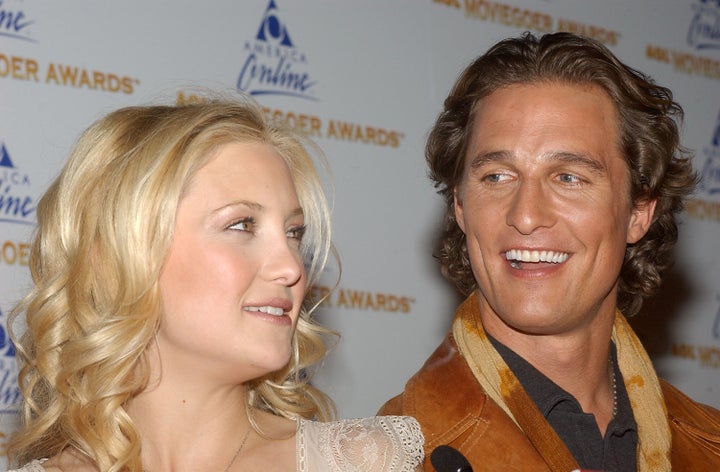 Director Donald Petrie told his writers they needed "some subtle explanation" for why Benjamin had "this Texas edge." In the end, they recast the character's father as "Navy Guy" and then cast South Carolina native Celia Weston as his mother.
But even before such considerations, McConaughey would have almost completely missed the role. Hudson, who was 23 at the time of production, revealed in December that she had to fight to get the part – as producer Lynda Obst thought he was too old at 33 for the role.
"We had an energy together, I wanted to play with him," Hudson said. "It felt kinetic. … We like to push each other and I love Matthew's commitment to everything; he is razor sharp."
How To Lose a Guy in 10 Days celebrates its 20th anniversary on Tuesday. Petrie and Hudson told Vanity Fair that no sequel was in the works. And McConaughey said he believes the original stands alone — and knows exactly why.
"It's really fun as a viewer to step into the joke with one character while the other doesn't," he told the outlet, adding that the film's storyline has "so much fun with audience engagement and participation." allow.