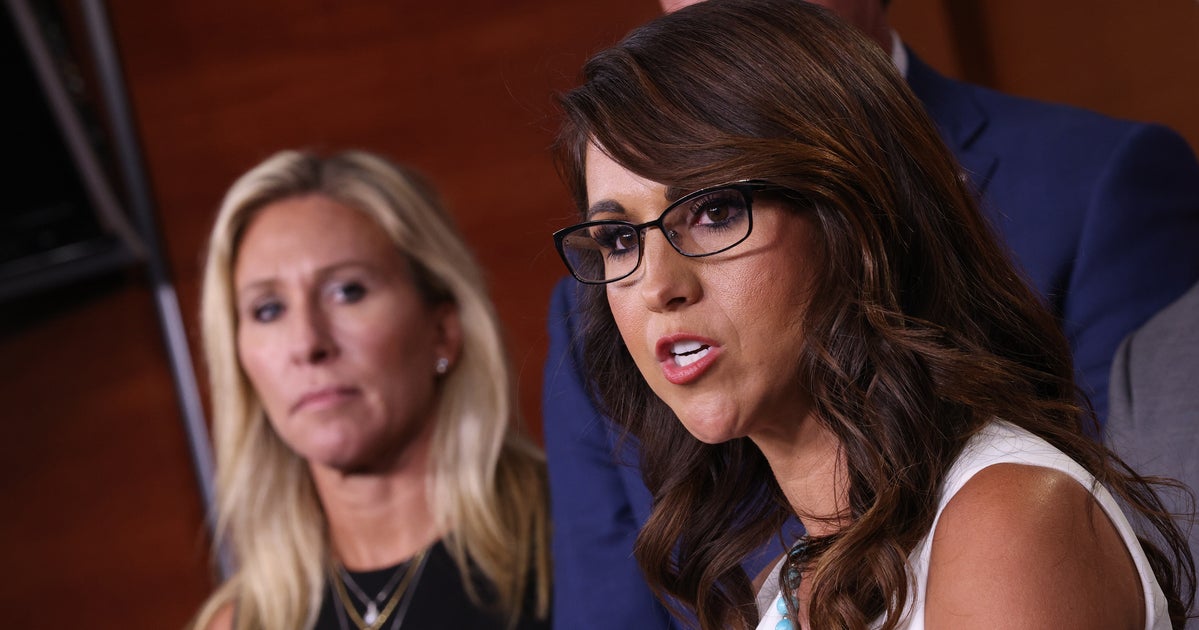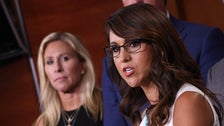 Rep. Lauren Boebert (R-Colo.) has confirmed some details of a reported altercation with Rep. Marjorie Taylor Greene (R-Ga.) in the congressional women's room.
Earlier this week, the Daily Beast reported that the two far-right lawmakers got into a vocal argument on Jan. 3, the first day of Congress this year, in the Speakers' Lobby ladies' room right next to the house, citing multiple sources. According to the report, Greene left a booth and confronted Boebert about accepting support from Kevin McCarthy during her re-election campaign but refusing to vote for him in the House Speaker election. Boebert told her, "Don't be ugly," and "ran off like a little schoolgirl," a source told the Daily Beast.
Neither woman would comment on the report to the Daily Beast.
But during an interview on conservative radio show The Dana Show, a snippet of it was seen posted online On Wednesday, Boebert voluntarily provided some details about the exchange.
"So I actually think it's great that this story got out because I was quoted that way," Boebert said. "So yes, we're talking in the women's room of Congress. Count me in [Rep.] Anna Paulina Luna (R-Fla.). And you know, people are upset about what's going on in the speaker race. It had been a few days, we didn't vote for Kevin McCarthy and we hadn't gotten the concessions we wanted."
She said Greene approached her and started "kinda mad about it."
"Nobody else was mad about it. Everyone was very professional," she added. "And when she started chasing me, I looked at her and said, 'Don't be ugly.'"
Host Dana Loesch stepped in, noting that the women were once allies. "You guys been there like BFFs for a while, right?" she asked.
Boebert seemed to dispel this notion.
"There was nothing against them, we travel in the same circles, have the same political views on a lot of things – not all – but on a lot of things," she said. "But yeah, I looked at her and said, 'I don't have time for this, so don't be ugly.' And that's what my grandma used to say to me when I was a brat."
Quoting the line online Wednesday, Boebert tweeted: "Be kind. Don't be ugly," which caused confusion among Twitter users, who noted the platitude appeared to be the opposite of their MO.
The temperature has risen between Greene and Boebert in recent weeks, and it's not the first time tensions have boiled over among the public. Last month, Greene slammed Boebert on Twitter for refusing to endorse McCarthy's speakership, accusing her of "high school drama" and noting that she narrowly won re-election. For her part, Boebert has repeatedly poked fun at Greene for embracing absurd conspiracy theories about Jewish space lasers.
Greene, breaking away from a bloc of her usual far-right allies, passionately backed McCarthy's bid for leadership and effectively guaranteed her return to committee duties after being impeached in 2021 for hate speech.