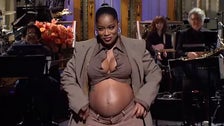 Keke Palmer found out about her pregnancy in the most unpredictable way.
During a recent episode of her podcast, "Baby, this is Keke Palmer' the actress, who is expecting her first child with boyfriend Darius Jackson, recalled the wild moment she discovered she was a mom-to-be thanks to her boyfriend.
In December, the 29-year-old first announced her pregnancy by baring her stomach midsection.Saturday night live" Hosting Debut. Palmer said at the time her pregnancy was "the greatest blessing."
"It's so funny because I found out that it was actually Darius," Palmer said on Tuesday's episode of her podcast, which featured Jackson as a guest. "I just happened to think maybe I could be pregnant. As if the period thing hadn't happened yet. Maybe now is the time."
The former Nickelodeon star added, "So I took the test and it came back negative … I didn't have the lines there so I just threw it in the trash."
According to Palmer, what happened next was something she didn't expect at all.
After deciding to go out to dinner with a friend, Jackson texted her … with a photo of a positive pregnancy test.
"We're at this semi-casual business dinner right now, but we're having some sake and enjoying ourselves, and all of a sudden I get a text message from Darius and he's like, 'When did you take this? ' And it's a picture of the pregnancy test and it's positive," she shared.
Palmer said it then dawned on her that she wasn't giving enough time before looking at the test result. "I didn't wait long enough!" she exclaimed.
"And I'm like, 'I took that earlier today, literally just a few hours before I skipped.' And he said, "Well, in your eyes you better drink water. Because I'm buying 10 of these things right now. You take them all with you when you come home,'" she continued.
The star joked that she took 10 pregnancy tests in a row as soon as she got home to be 100% sure and said they all came back positive.
Elsewhere in the interview, Palmer dropped some references to the name she and Jackson chose for their son.
"We don't say the name, but the name for us — there's American. There's a Black American storyline," she teased.
"We want it to be just that – we don't want anything too unique. It's not about being stone and sand. It's like a beautiful natural [name]," she explained.
Last month, the lovebirds ventured out on a tropical babymoon vacation together.
The "Nope" star, who shared photos on Instagram of the romantic trip, admitted that she was "really proud of me for resting on this trip," explaining that "the theme of the trip is rest."
Last week, while appearing on The Tonight Show Starring Jimmy Fallon, Palmer gushed to Fallon on how excited she was to reveal her pregnancy on SNL.
"I was always like, you know, 'Of course I'd love the opportunity to host 'SNL.' I just didn't know it would be the same time I was pregnant," she said. "And so I was like, 'I guess I have to say it.'"