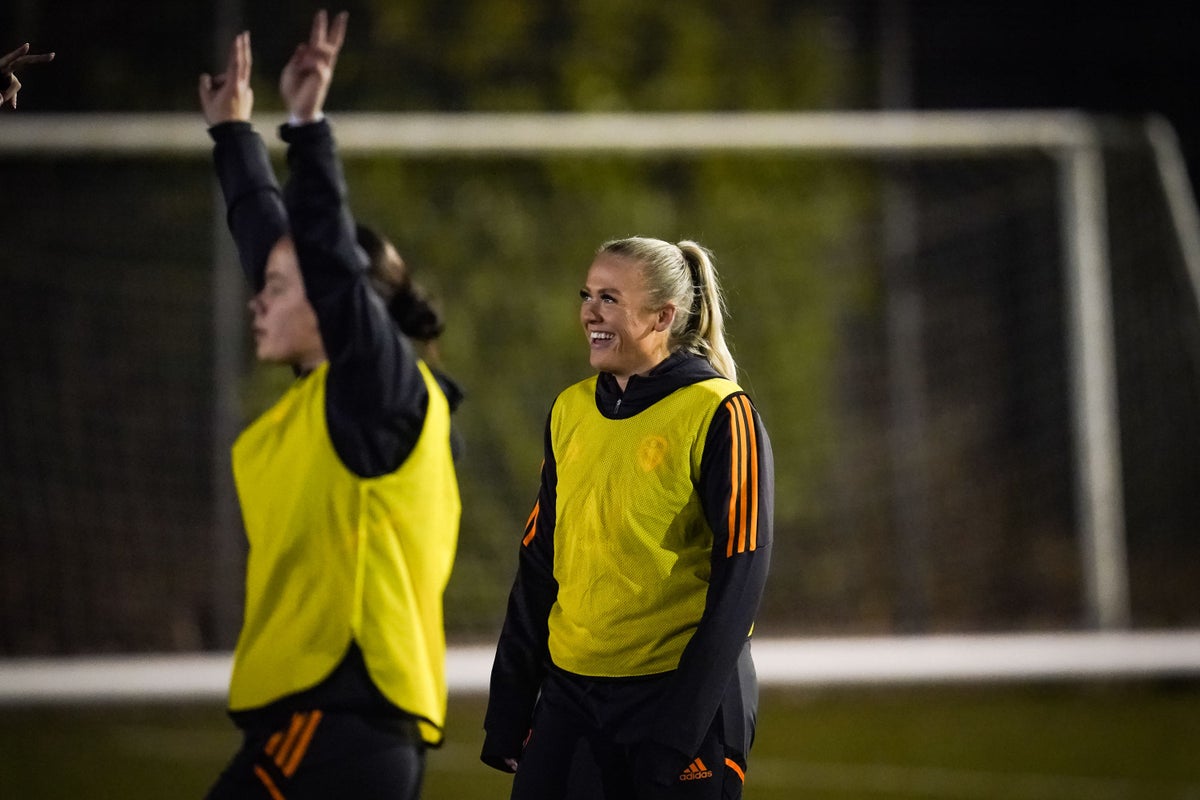 Leeds striker Amy Woodruff counts herself among the legions of Leah Williamson's 'big fans' but she will soon be one of the few to boast of having played against the England captain.
After finding out that her Tier 4 National League side would face Arsenal from the Women's Super League in the FA Cup fourth round, Woodruff took to Twitter to express her delight, writing: 'I'm going against Leah Williamson wtf play, I've already won no matter (the) result."
That viral tweet, which has now garnered over a quarter of a million views, began a heartwarming exchange with the Lionesses skipper, which would culminate in the two women swapping shirts after their cup game on Sunday afternoon.
"I looked at the Arsenal squad, I obviously knew Leah was playing anyway," Woodruff told the PA news agency.
"But I read some of the names and I was like, 'There's no way I'm going to play these. I've dreamed about stuff like that and I'm sure young girls younger than me dreamed about stuff like that and I can't believe I'll be one of them now. My dream will come true.'
"I'm a big fan of Leah's. I think she's so down to earth, she's such a lovely person. She's very involved in the community with Arsenal and has a million fans of young girls who just want to be Leah. And I'm one of them. I freely admit that I'm one of Leah's big fans."
So much so, in fact, that Woodruff Williamson tweeted, "Please can I have your shirt after (the) game" and was stunned when her idol replied, "Can we trade? See you on the 29th."
Woodruff and her teammates train two nights a week while balancing full-time careers and commitments. Their squad consists of nurses, teachers, students and several players who work in the emergency services.
Arsenal's professional line-up, on the other hand, reads like a Who's Who of international football.
While household names Beth Mead and Vivianne Miedema are both sidelined with long-term cruciate ligament injuries, Leeds could face lioness Lotte Wubben-Moy as well as Sweden international Stina Blackstenius, who has six goals and four assists in 16 games in all competitions of the season.
Leeds are doing their best to put up with anything after beating Stoke – one step up the pyramid – to arrange the meeting at Meadow Park.
Woodruff's grandfather will be one of the many Phoenix believers boarding a bus to London on Sunday, before she readily concedes it's "obviously the greatest game of our lives".
She said: "Leah is the captain and to play against the England captain when we're just regular Leeds girls to play against, I just can't get over it. I honestly can't get over it.
"We've seen her on TV all these years. Psychologically we don't have to be too excited to see them in person and share the same spot, but remember why we're here and that we've won games to reach that position and how grateful we are for that.
"You never know what could happen in an FA Cup and we will give it our all. We have a lot of people following us, so we want to make them proud of us, proud of ourselves."
Regardless of the outcome, should Williamson do well with the shirt swap, Woodruff knows exactly where the coveted souvenir is going.
She added: "I just bought my first house. I get the keys a week today. So that's hanging framed on my wall."