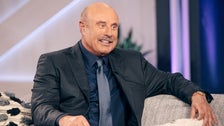 Phil McGraw, a controversial television personality and psychologist known as "Dr. Phil," plans to end his long-running talk show in the coming months, according to a statement released by CBS Media Ventures.
The daytime show has been running for 21 years.
"Through this show, we've helped thousands of guests and millions of viewers through everything from addiction and marriage to mental wellbeing and parenting," McGraw said in the statement. "This has been an incredible chapter of my life and career, but as I move from day to day there is so much more I want to do."
According to the statement, McGraw chose to leave the show to pursue other endeavors, including broadcasting in prime time. The "Dr. Phil' was renewed in 2018 to run through 2023 and will continue to air new episodes for the remainder of the current season and will not be renewed.
McGraw, whose career in daytime television has spanned more than 25 years, first made his mark in the 1990s as a frequent guest on The Oprah Winfrey Show. "DR. Phil" premiered in 2002 and has been the No. 1 or No. 2 in its genre for the past two decades. The syndicated daytime show received 31 Emmy nominations and won five PRISM Awards.
The "Dr. Phil' talk show, where guests talk about mental health and other life issues and seek advice, was praised for opening up dialogues about therapy and mental health. But both McGraw and his show have faced criticism over the years. Although the show drew over 2 million total viewers, it was called out for entertainment purposes because of its exploitation of people with mental illness.
In 2016, a teenage guest on the show, who was deemed "out of control" by her mother, went viral when she said, "Catch me outside, how 'bout that" as she tried to fight the audience. Another woman who has claimed to be pregnant with baby Jesus and that Eminem is the father has appeared on the show several times.
The show also faced legal troubles. According to The Washington Post, a Colorado woman appeared on the talk show in 2019 and was sent to a ranch for troubled teens in Utah, where she was allegedly sexually assaulted by a staff member. In 2021, she sued McGraw and ViacomCBS, claiming her family had been pressured into sending her to the program but were not informed that previous participants had accused employees there of misconduct.
In 2020, McGraw came under fire for a tweet he posted about sexual assault and then deleted. "If a girl is drunk, is it okay to have sex with her? Answer @drphil yes or no," read the tweet, which hashtag #teenssccused. The show defended the tweet in a statement, saying it was intended "to provoke discussion on a very serious show topic based on breaking news, hence the #teensaccused label," adding that the question was more of a poll as an explanation or as a joke.
An investigation conducted by BuzzFeed News last year also found that current and former employees said they "experienced verbal abuse in a workplace that promotes fear, intimidation and racism."
McGraw was also arrested after comments about COVID-19 during a 2020 Fox News interview in which he and a senior member of the White House coronavirus task force, Dr. Anthony Fauci, came under scrutiny.
"Two hundred and fifty people die of poverty every year, and the poverty line is getting so high that more and more people will fall below it because the economy is collapsing around us," McGraw said. "And they are doing this because people are dying from the coronavirus. I understand that."
He continued: "But look, the fact of the matter is that people are dying — 45,000 people a year die from car accidents, 480,000 from cigarettes, 360,000 from swimming pools, but we're not closing the country to that. But are we still doing it for that? And the consequences will last for years because lives are destroyed."