WASHINGTON — The House, paralyzed for days, struggled to choose a speaker. The Senate holds symbolic votes just to pass the time. America's most powerful lawmakers have been twiddling their thumbs and are unable to hold hearings because no committees have been established.
Welcome to the Seinfeld convention. It's a show about nothing.
A month later, the 118th Congress got off to a spectacularly slow start, frustrating and anticipating some lawmakers two chaotic years of divided government in a presidential election cycle where very little is expected.
Forget making historical laws. It's not even clear that the new Congress can agree to keep the government functioning or to prevent a self-imposed economic collapse.
"I have very low expectations," said Rep. Gerry Connolly, D-Va., in an interview. "I would predict – and I hope I'm wrong – that this will prove to be one of the least productive Congresses in modern history due to the dysfunctionality of an unstable majority."
House Republicans only have a four-seat majority, leaving few rabble-rousers to wreak havoc in the chamber. They spent their first five days arguing with each other over whether Kevin McCarthy should be voice artist. After 15 ballots – the most since 1859 – he finally won the gavel, but not before a physical altercation broke out on the floor of the house.
On the other side of the Capitol, progress is even slower. The Democrat-controlled Senate voted just three times in the entire month of January. In the first month of 2017, the Senate voted 35 times; In 2015 he voted 46 times.
"This is certainly an incredibly slow start," said Senate Minority Whip John Thune, RS.D. "There is not much going on."
Last week, the Senate voted on a measure to designate January as "National Stalking Awareness Month" — which met with no opposition and could have been passed immediately. But the chamber apparently had nothing to do that day and needed to fill the time.
On Tuesday, usually one of the busiest days of Legislative week, the Senate didn't vote at all. And on Wednesday, the Senate voted on a resolution designating January as "National Human Trafficking and Modern Slavery Prevention Month." The vote was 97 to 0, again indicating that a recorded vote was unnecessary; the Chamber could have approved it unanimously.
"This week we took a firm stand against Stalker. Today, thanks to my good friend Senator Schumer, we took a strong stand against human trafficking," scoffed Senator John Kennedy, R-La. "I heard a rumor – I don't know if it's true, but I think tomorrow Chuck will tell us to take strong action against pedophiles. It's been a busy week."
"The startling pace of the Senate earlier this year is certainly astounding," Senate Minority Leader Mitch McConnell quipped R-Ky. "I don't think I've ever seen a slower start ushering in a new Congress in the Senate."
On Wednesday, six days after Senate Democrats announced their committee assignment, Senate Republicans followed suit. Majority Leader Chuck Schumer, DN.Y., said Wednesday the delay was because the GOP committee process was "a little more cumbersome than ours" and that he was "very hopeful" that the committees would be formally assembled on Thursday be able.
One of the heists: Freshman Sen. Eric Schmitt, R-Mo., wanted a coveted seat on the Judiciary Committee. But there is already a Republican from Missouri on the board and not enough seats. His colleagues refused to grant him a waiver or give him a seat.
The House of Representatives is often more unruly than the Senate. But the past few weeks have been particularly unfocused in the lower house.
Much of the distraction came from one man, freshman Rep. George Santos, RN.Y., who has been at odds with the media daily over his numerous forgeries and embellishments regarding his resume and personal biography.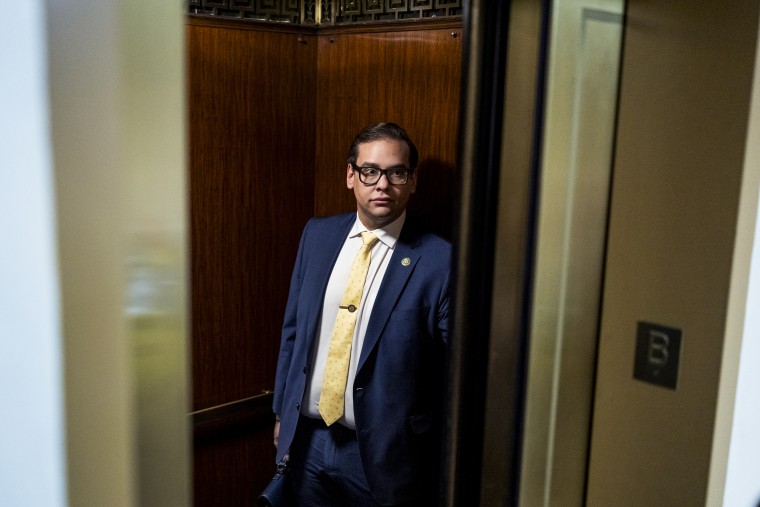 McCarthy is met with questions about Santos at almost every press conference, and his fellow GOPs are constantly peppered with questions about the seemingly serial liar in the hallways, too. On Wednesday, NBC News confirmed that the FBI is investigating Santos' role in a fundraising program involving the dying service dog of a disabled Marine veteran.
This week, House Republicans had to postpone a vote to remove Rep. Ilhan Omar, D-Minn., from the Foreign Affairs Committee because the committee had not yet been established.
"It sounds like a Seinfeld sketch," said Rep. Brendan Boyle, D-Pa.
Not everyone on the hill agrees that nothing is being done. When asked about Congress' snail's pace, Rep. Dusty Johnson, RS.D., pulled out his notebook in which he had scribbled a list of measures the House of Representatives had passed in recent weeks: creating a special committee on China's competitiveness, Banning sales from the Strategic Petroleum Reserve to China, ending the Covid-19 public health emergency and forcing federal employees to return to the office.
"Did the 117th really pass six substantive laws, four of them bipartisan and some of them with a legitimate chance of being enacted?" he asked.
Meanwhile, a routine Wednesday organizational meeting of the Judiciary Committee spiraled into a nearly hour-long debate over the pledge of allegiance. Rep. Matt Gaetz, R-Fla., proposed an amendment that would allow members to invite "inspiring voters" to lead the pledge before each committee hearing.
But Democrats protested, with Rep. David Cicilline, DR.I., trying unsuccessfully to amend Gaetz's amendment to clarify that "insurgency" who supported Donald Trump's efforts to overthrow the 2020 election are not leading the pledge could.
There was shouting between Republicans and Democrats. Then the official House GOP Twitter account tweeted the outdated version of the 1892 Pledge of Allegiance, written by New York socialist Francis Bellamy.
"I pledge allegiance to my flag and the republic it represents: an indivisible nation, with liberty and justice for all."
The tweet was quickly deleted.