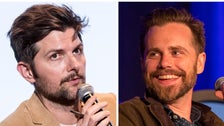 Griff thought he had gotten too harsh.
Adam Scott, who guest-starred in some early episodes of Boy Meets World as high school bully Griff Hawkins' has finally confronted two of the show's stars with a nagging emotion that's been tugging at him "literally for 29 years."
The Severance star appeared on Danielle Fishel, rider strong and Will Friedle's podcast, Pod Meets WorldMonday, as the three "Boy Meets World" stars watch again and talk about their experiences on the ABC family comedy, which ran from 1993 to 2000.
And things got really awkward about 42 minutes into the podcast episode when Scott confronted Strong and Fishel about always thinking they didn't like him — and feeling partly guilty.
Scott recalled a scene closing Season 2 of the show: After his scene was shot, everyone started celebrating the end of the season, and in the spirit of the moment, he started hugging some of his co-stars.
Scott said that as he hugged Strong – the actor who played bad boy heartthrob Shawn Hunter – he had an odd reaction to the gesture.
"I walk in and hug you, and as I do, you push me away and give me this look like, 'Wait a minute, who the hell are you?' And then you run away," Scott recalled to Strong.
In response, Fishel, Freddie, and Strong couldn't hide their shock at Scott's revelation and laughed awkwardly as Strong exclaimed: "Are you serious?! Why would I do that?!"
Ryder added that he had "absolutely no recollection of the incident."
"I'm so glad you don't remember it, because in a way that means it wasn't a traumatic experience for you," Scott said, referring to the fact that Scott was in his 20s at the time and Strong was still young was youthful.
Scott said that he felt so weird about Strong's reaction because "he was a little kid and I'm a grown stranger" and was "surprised" when the show asked him back a few months later for a Season 3 episode.
Fishel, who played Topanga Lawrence on the show, then urged Scott to open up about a rumor she was involved in, which Scott previously mentioned in an interview with Vulture in 2011.
Knowing immediately what Fishel was referring to, Scott explained the situation.
"Okay, I read some message boards – obviously that was the early days of the internet, it was like 1995," he said. "I remember going on there and just being so thirsty for recognition that anyone even knew I was on TV. I think I read somewhere that someone said, 'Well, I heard Topanga doesn't like Griff' – was that the story?"
For Fishel's response, listen to the rest of the episode here.