A dozen squirrel monkeys were stolen from a Louisiana zoo on Saturday, less than two days before a pair of monkeys were stolen from the Dallas Zoo, officials say.
The person who stole the animals in Louisiana broke into Zoosiana in Broussard — a town about 7 miles southeast of Lafayette — just before midnight and stole the animals from a squirrel monkey exhibit, the zoo said in a Facebook post.
"It's a very sad situation, obviously our hearts are broken," Zoosania general manager Matt Oldenburg told Lafayette's NBC affiliate KLAF.
The zoo's veterinarian and animal care team have examined the remaining monkeys and found that "there are no other obvious issues affecting their health or well-being."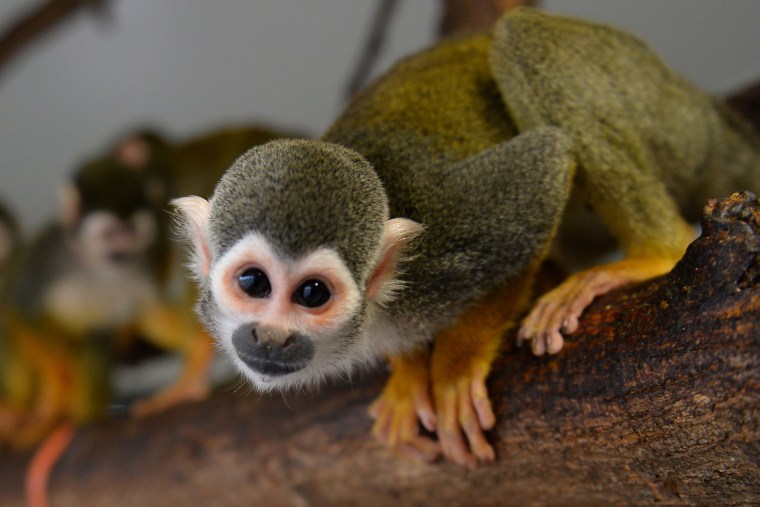 According to the Facebook post, zoo officials are working with local, state, and federal agencies to investigate the theft. Broussard Police Chief Vance Olivier told KLAF that authorities are reviewing surveillance footage around the zoo to try to locate a suspect charged with burglary.
The theft happened less than two days before the pair of emperor monkeys were reported missing at the Dallas Zoo, in what investigators believed was a theft. These monkeys were found Tuesday in the closet of an abandoned house in Lancaster, a city about 16 miles south of Dallas. The monkeys have been returned to the Dallas Zoo, no arrests have been made and an investigation into the animals' disappearance is ongoing, the department said.
The Dallas monkeys' theft was the latest in a string of suspicious incidents at the zoo: a 35-year-old endangered vulture was found dead there on Jan. 21 with what authorities described as an "unusual wound."
Earlier this month, a clouded leopard escaped from its enclosure after being deliberately cut down, according to authorities, who said the langur monkeys' habitat had also been cut down, but none of those animals escaped. The leopard was eventually caught and returned to its enclosure.
A spokesman for the zoo previously said it had tightened security by adding more night guards and cameras. The zoo also offered a $10,000 reward for information leading to an arrest and charges in the incidents, according to the spokesman.
A spokesman for the Dallas Police Department told NBC News the agency is aware of the monkeys' theft in Louisiana and will "be part of the ongoing investigation."
A spokesman for Broussard Police could not immediately be reached for comment.
Native to South America, squirrel monkeys have an average lifespan of 21 years, according to the Animal Diversity Web, an online database from the University of Michigan. They live in groups of up to 300 monkeys, "with the females forming the central core of the group," according to the database, which adds that they can easily live in captivity and were once sold as pets.
Under Louisiana law, keeping monkeys as pets is illegal, according to Michigan State University's Animal Legal and Historical Center.